The Wizarding World Wand Installation Launches In London With Special Event!
Oct 19, 2018
Yesterday a special Fantastic Beasts wand installation opened in London ahead of the release of Crimes of Grindelwald, and we were there to witness the event! Expert Wand Choreographer, Paul Harris, and prop wizard Pierre Bohanna were both there to speak about their experience on the films–and Harris even gave us a wand class demonstration!
Arriving first thing in the morning to the Wizarding World red carpet, each of the wands (the same wands making up the Wizarding World logo) were illuminated in front of St. Paul's Cathedral. This is what the installation will look like every night between now and November 13th between the hours of  6:45pm – 10:45pm:
We've officially arrived at the #FantasticBeasts wand installation in London! Stay tuned here and head over to our Facebook page for live footage! https://t.co/87gkqnJaQR #WandsReady @lumos pic.twitter.com/3DHElD3LQ0

— The Leaky Cauldron (@leaky) October 18, 2018
First up, we saw a performance of a few tracks of the Harry Potter and Fantastic Beasts soundtracks, including a performance of Hedwig's Theme!
The #GrenadierGuard playing #HarryPotter 's #HedwigsTheme this morning at the #wandinstallation ! Pure magic!!#WandsReady pic.twitter.com/Ck2oc4Nx2t

— The Leaky Cauldron (@leaky) October 18, 2018
Then Paul Harris and Pierre Bohanna arrived, and Paul Harris gave his first class to Props Master Pierre:
And the wand demonstration has begun! #PaulHarris is teaching #HarryPotter @FantasticBeasts
Props Master #Pierrebohanna!!#WandsReady pic.twitter.com/6VFuVmuG6g

— The Leaky Cauldron (@leaky) October 18, 2018
Leaky's reporter Claire Kao then received an awesome wand choreography lesson and is now 100 percent ready to face the wizarding world!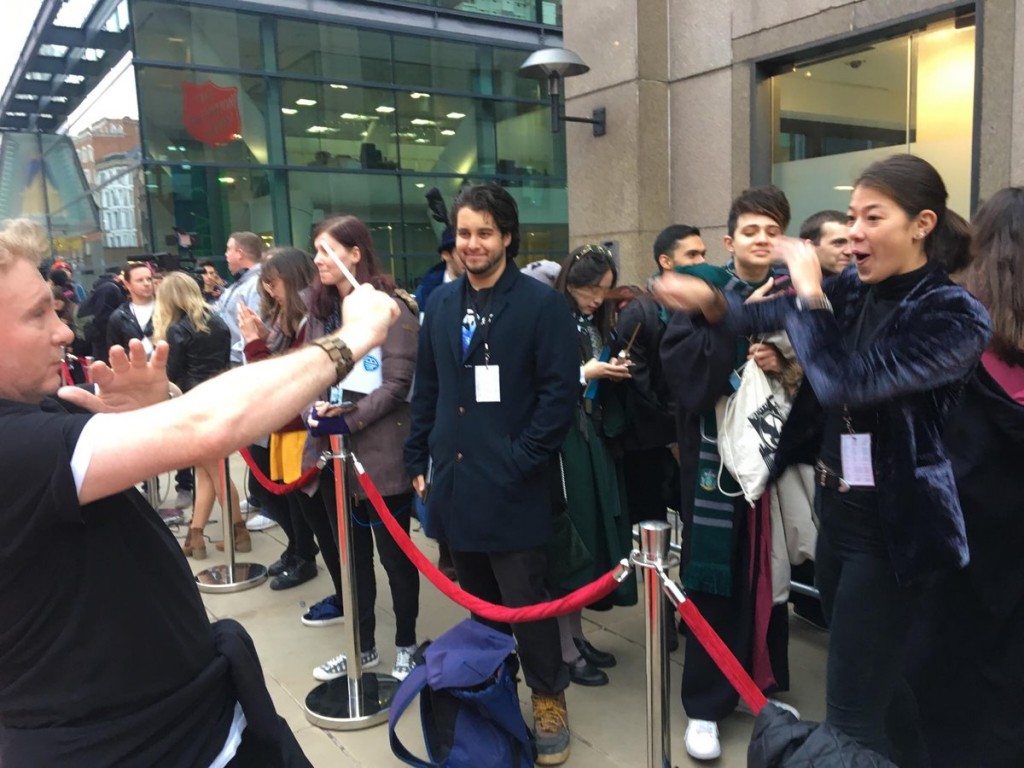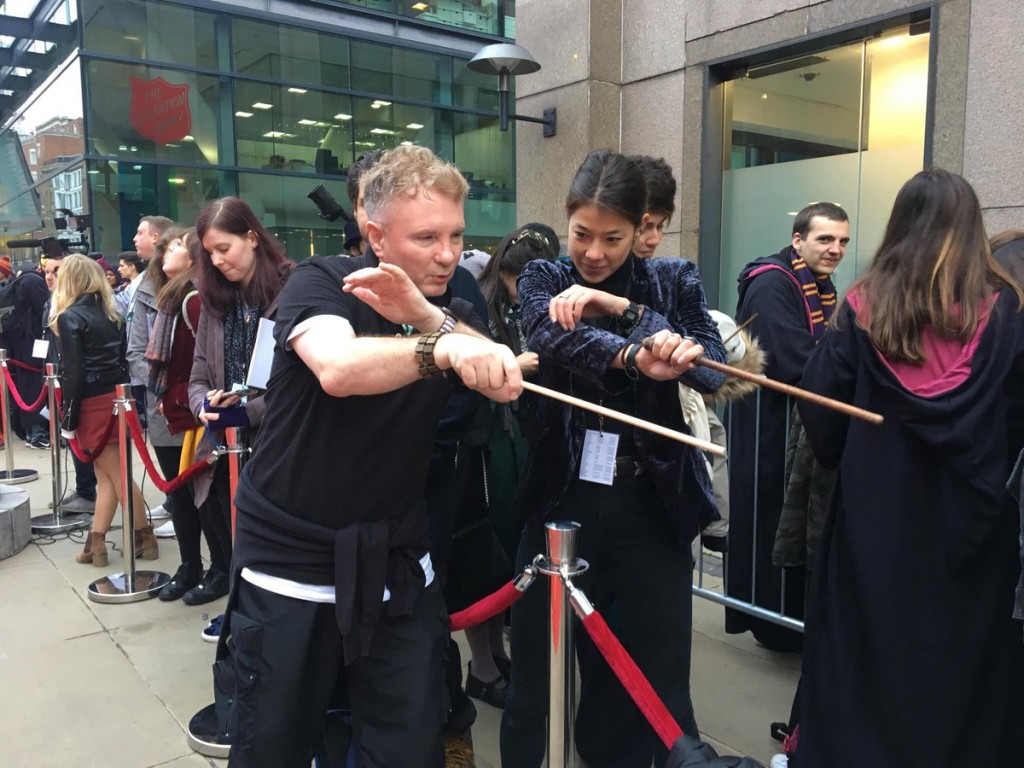 In our interview with Paul Harris, he explained what goes into planning a fight sequence, saying:
"There are several things there. Ordinarily, when one choreographs for film, most times the director is not as prepared as David. David Yates is very, extremely prepared and, for example, the big sequence in Order of the Phoenix, David showed me a year before we shot it on the storyboard and said, essentially, 'Make me a sequence that looks like that.' " 
As for whether Yates' involvement, and the more collaborative working relationship that resulted, made the job easier or had a hindering effect on his creativity, Harris reflected:
"It's different–it doesn't enter it at all. I like that actually. I prefer it 'cause it gives me a starting point, and in that case, it was new, so it was important that I had a starting point because David kept talking about it being like a dance and having grace and artistry. So when I saw the drawings, then I realized what he meant."
Finally, Harris discussed the unique factors that he, as a choreographer, considers since CGI and other special effects are becoming more advanced, and more often used, especially in the Harry Potter and Fantastic Beasts films, which are predicated on creating magic that doesn't exist. He said:
"I remember one of the very first questions that was asked of me, and I laughed, I thought this was incredible that someone asked this amazing question–this guy came in and was watching the rehearsals really early on, and then he introduced himself and said he was head of CGI and said, 'I'm just wondering what might constitute wand shrapnel?' Definitely never been asked that question before! But it makes you think about all that because then, obviously, that's being put on afterwards.

"There's an interview with Gary Oldman, actually, where he's talking about how it's imperative that the actors have real intent because it's not there. Do you know what I mean? The connection between the eye and the wand and the target has to be there because that has to then be synced afterwards with whatever is coming out of the wand and hitting the target. It's not actually there so there has to be an eyeline that will follow the target, that will follow the spell through to its damage."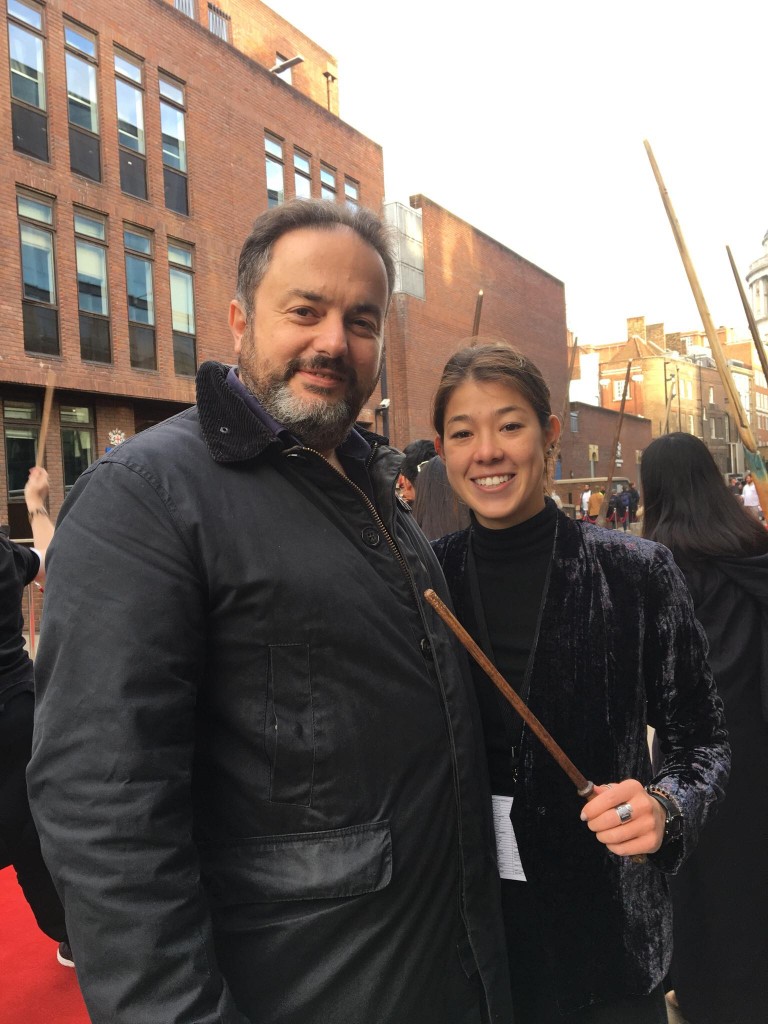 We then had the chance to interview Pierre Bohanna once again and tried our best to get him to divulge the meaning of the mysterious symbol on the bottom of the Elder Wand. He gave a surprising admission, saying:
"I have to say, the significance is, I think–I don't know what the significance is! The wonderful thing about the Elder Wand is that it's the only wand made by magic. It's not made by a wandmaker…so I think that significance is lost in the magic that it was made. Maybe we'll never know!"
Leaky also asked Bohanna to discuss the props in Nicolas Flamel's house, many of which are teased in Entertainment Weekly's recently-released first look photos. He replied:
"There's some real doozies in there. We had great fun. There's some of his equipment we had to make–the glassware, etc. Obviously, the crystal ball and its stand–lovely pieces. But also he opens a cupboard, and there's some pieces that we made in there as well, and also one piece that we did make, but a very long time ago, which is the Philosopher's Stone. So that's very exciting to see that little element, which is something we made 18 years ago."
And taking the questions back to Hogwarts–because we have to bring it back home in the end–we asked Bohanna what it was like to design props for 1920s version of the wizarding school. He said:
"The lovely thing, the main room you see in Hogwarts this time is Defense Against the Dark Arts–but with Dumbledore. And the lovely thing, when we did the original series obviously, really, dressing the pieces that are in there are reflective of the teacher of that year and really trying to–the pieces that he'd bring in to try and help teach the subject. And, of course, Dumbledore's great passion is Astronomy, and you see that in his office in the Potter series. So we first saw, we took some of the pieces from the archive from the Studio Tour of the original pieces that we made for his office and brought those into the class…and then also we brought in new pieces and built new pieces to expand on that principle, and I loved that." 
Fans at the event were lucky enough to walk away with Crimes of Grindelwald premiere tickets – and a replica of Newt Scamander's wand!
All the fans at the event received a replica of Newt's wand!!#wandsready #wandinstallation pic.twitter.com/WeiItLY5eb

— The Leaky Cauldron (@leaky) October 18, 2018
We had such an excellent time! Be sure to order your own Fantastic Beasts pin in support of J.K. Rowling's children's charity, Lumos, and look out for more Fantastic Beasts special events coming soon – take a look at early fan screening tickets here.
We had an amazing time at the #wandinstallation event! Thank you to #PaulHarris and #Pierrebohanna and @FantasticBeasts ! And don't forget to purchase your special Newt wand pin in support of @jk_rowling 's children's charity @lumos !! pic.twitter.com/cDajG3laZp

— The Leaky Cauldron (@leaky) October 18, 2018
We're delighted to be partnering with @BeastsMovieUK for this magical wand installation supporting Lumos, which will light up London in the lead up to #FantasticBeasts: The Crimes of Grindelwald. We'll also have our limited edition badges available to buy: https://t.co/FySbpSOBxI pic.twitter.com/gfERlFEPsB

— Lumos (@lumos) October 18, 2018
Thanks to reporter Claire Kao for the coverage of this event and to Warner Bros for the invite!