Houses Assemble! Alexa Now Plays 'Harry Potter Quiz'!
Nov 30, 2018
Audible and Pottermore Publishing are partnering to bring an exciting new Harry Potter Quiz to Amazon Echo, Spot and Show users today. Simply ask, "Alexa, play Harry Potter Quiz" to be challenged with three trivia questions, which will be updated daily!
The interactive trivia game is hosted by Laurel Lefkow, who introduces each question with passages from Jim Dale's well-known audio editions of the Harry Potter series. Wizarding world fans can expect to be charged with deciphering riddles, recognizing magical objects, answering questions on iconic quotes and testing their familiarity with the beloved characters of J.K. Rowling's books.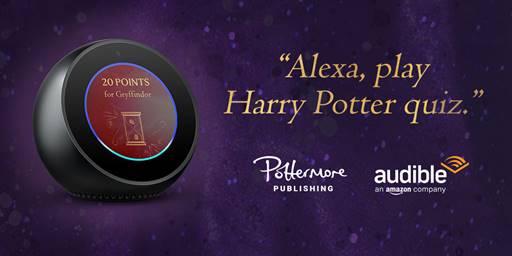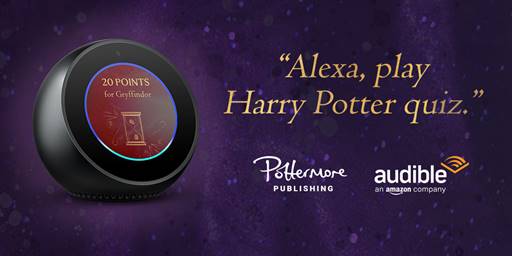 Audible announced that regular players will also have exclusive access to hidden bonus quizzes. And fans can identify their Hogwarts House so they can accumulate points for fellow Gryffindors, Hufflepuffs, Ravenclaws and Slytherins! Players keeping up with their team scores can check where their house stands through Alexa's companion app.
Giving fans even more options, players will be able to select from two levels of difficulty. Those who want to ease into testing their knowledge can choose O.W.L. (Ordinary Wizarding Levels), which would suit beginners well. Those Potter-heads who feel more confident in their mastery of wizarding trivia can choose N.E.W.T. (Nastily Exhausting Wizarding Tests) to really show off their wizarding world prowess.
Anyone who wants to brush up on the details (because really, when can you ever have too much Harry Potter? It's probably about time for a listen anyway) can check out Audible's collections, including: all seven Harry Potter books, performed by Jim Dale, Fantastic Beasts and Where to Find Them, performed by Eddie Redmayne, Quidditch Through the Ages, performed by Andrew Lincoln, Harry Potter: A History of Magic, performed by Natalie Dormer, and the soon-to-be-released Fantastic Beasts: The Crimes of Grindelwald – Makers, Mysteries and Magic by Dan Fogler. The newest audio edition will feature contributions from Eddie Redmayne, Jude Law, Zoe Kravitz, Ezra Miller and others!
For more information about the Harry Potter Quiz, visit Audible here.