Pottercast Episode 287 "That's Not My Baby": Crimes of Grindelwald Deleted Scenes Unpacked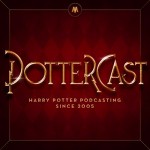 Mar 13, 2019
Just in time for the release of Crimes of Grindelwald on DVD and Blu-ray, Pottercast dropped a new episode dedicated to discussing a few of the deleted scenes included in the film's digital extras. In Episode 287: "That's Not My Baby" Melissa, John, and Frak uncrate from their Arcanus cargo deleted scenes one thru three, which focus on none other than said baby, Credence Barebone.
Refresh those feeds because #287: "That's Not My Baby" – digging into the first set of FB extra scenes – is out now: https://t.co/DmBU7lxJ7D

— PotterCast (@pottercast) March 12, 2019
Our hosts begin the show at the beginning, with the first deleted scene "Credence Reborn", discussing everything from the technical aspects of the images to the implications of the Predictions of Tycho Dodonus. During their deep dive into the infamous baby switch, John understandably poses the question,
"Shouldn't there be a spell to tell if that's my baby or not my baby??"
They take a look at clip two, "At the Docks" when Credence presumably joins the Circus Arcanus, and get into a books vs. movies discussion.
The last scene of the episode, "Walk and Talk"  is a standout of the extras, when Dumbledore reveals this key bit of info to Newt,
"I knew Grindelwald would try to catch Credence. He had a vision you see many years ago, in which an Obscurial kills a man he feared above all else."
The trio have a heyday with this one. Make sure you listen till the end for some classic Dumbledore jabs and a very interesting theory on Voldy!
If you haven't had a chance to see the deleted scenes from Fantastic Beasts film two, we suggest you take a look below before you listen…

The episode wraps up with talk about hitting number 300 at Leakycon10 October 11-13 with fanfare worthy of the Weasley Twins and Pottercast's broadcast from the first PodX, the upcoming convention for podcasters and podcast fans produced by Mischief Management May 31-June 2. You can listen to Episode 287 of Pottercast, as well as past episodes here.