See Cursed Child with the Malfoys for Red Nose Day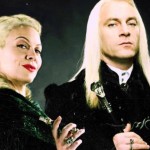 Mar 20, 2019
Yes, you read that correctly. It may be for Comic Relief, but it's no joke–we're about as serious as Voldemort in the Priori Incantatem stance. Thanks to their 2019 prize draws for Red Nose Day, you have a chance to win tickets to see Harry Potter and the Cursed Child at the Palace Theatre in London in the company of Lucius and Narcissa Malfoy!
When you think of comic relief, these two Death Eaters may not be the first thing that comes to mind, but the two brilliant actors that played them in the Harry Potter films, Jason Isaacs and Helen McCrory, are sure to show you and a friend an extraordinarily spellbinding time. Listen below to Isaacs talk about the prize, which includes pre-show snacks with he and McCrory at the theatre before heading to see both parts of the award-winning Harry Potter play. As if that wasn't enough, the show will be followed by a visit with James Howard and Jonathan Case who currently play Draco and Scorpius. An entire day of Malfoys!
If you thought Harry Potter + The Cursed Child was sold out… This could be your lucky chance to WIN a pair of tickets AND you get to meet the Malfoy's!
(OK, ok, their real names are @jasonsfolly and Helen McCrory- and they're bloomin' lovely people!) https://t.co/GU8hO0ewW3 ???? pic.twitter.com/TnJ3zqKm1f

— Comic Relief: Red Nose Day (@comicrelief) March 19, 2019
According to the Comic Relief website the winner will receive:
* two tickets for you and a guest to Harry Potter and the Cursed Child (Parts One and Two) at The Palace Theatre, London. Tickets will either be to see both Parts One and Two on a Wednesday (matinee and evening), or to see Part One on a Thursday evening and Part Two on a Friday evening.

* a meet and greet with Jason Isaacs and Helen McCrory, and some cast members from Harry Potter and the Cursed Child at The Palace Theatre. Winners will also receive a complimentary drink for them and their guest.

* a 2-night stay in a twin or double room in a 4-star hotel in London (including continental breakfast) booked by Comic Relief once dates for the prize are set.
To register and check out the details including all the 2019 auctions and prize draws to benefit Red Nose Day 2019 visit Comic Relief. Entries are £10 each. The drawing closes Friday, April 12.