'Philosopher's Stone' Hardback With Daniel Radcliffe's First Autograph Up for Auction!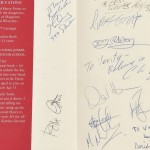 Jun 15, 2019
A hardback copy of Harry Potter and the Philosopher's Stone boasting the signatures of the first film's cast, including the first-ever autograph from a young Daniel Radcliffe, goes up for sale at Vectis Auctions in Thornaby, Stockton on June 26. The signed copy will be part of a Harry Potter lot expected to bring bids between £300-£500.
The book was originally owned by a film extra known only by the first name Verity. She filmed scenes in the North Yorkshire village of Goathland, which served as Hogsmeade. Though diagnosed with leukemia and receiving chemotherapy treatments at the time, the Sorcerer's Stone producers proved amenable to her situation.
According to Chronicle Live, a Vectis rep shared the story behind the signature. Verity recounted that she observed Radcliffe, not yet famous for his portrayal of The Boy Who Lived, sitting alone on set one day and approached him for a chat. During the course of their exchange, she asked him to sign her book. He commented that she was the first to ask for his autograph and promptly wrote: "To Veraty – best wishes – Daniel Radliffe."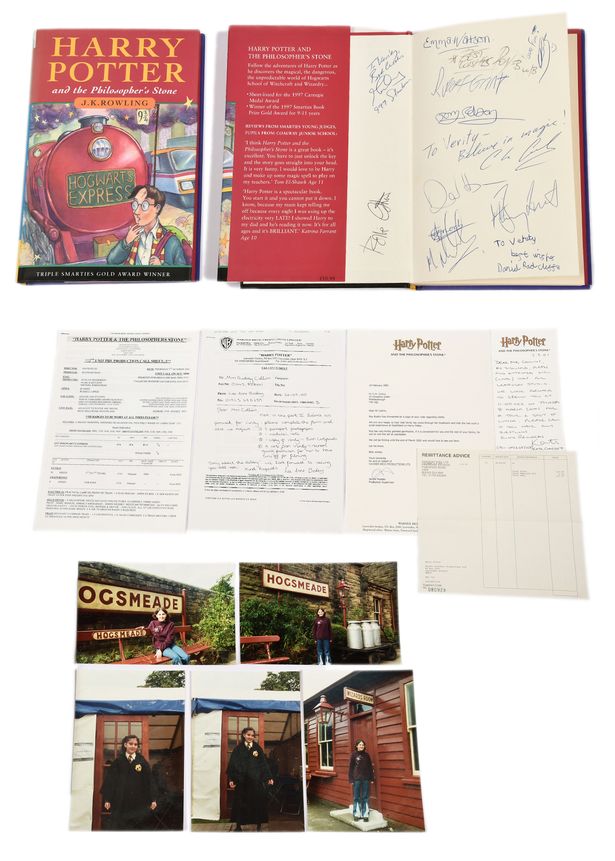 To Radcliffe's inscription, Verity later added the autographs of director Chris Columbus, who added the touching phrase "Believe in Magic," Rupert Grint, who played the endearingly loyal Ron Weasley, Emma Watson, who portrayed the studious Hermione Granger, Draco Malfoy, cast in the role of the arrogant Draco Malfoy, and Robbie Coltrane, who played the lovable half-giant Hagrid, the iconic character who first introduced Harry to the wizarding world.
The girl also acquired signatures from six other actors, as well the script of Warner Bros. Productions executive Roy Button, who invited her to visit Leavesden Studios.
As news of the book, and it's claim, broke, fellow Potter actor Chris Rankin, who portrayed Ron's older brother Percy Weasley, tweeted:
"I can confirm that I was there that day, and I'm 99% sure that the auto in the top right corner is mine. This was our first ever day filming. It is almost certain that none of us had signed a HP book before!"
That is exciting news for those interested in the lot, which also includes cast sheet documents, instructions for filming, Verity's pay slip, photographs in costume as a Hogwarts student and the letter from Button issuing the invitation to Leavesden. The items would be a magical addition to the memorabilia of any avid Potter collector!