'Harry Potter' Cast Talks Hagrid's Magical Creatures Motorbike Adventure in Special Opening Event Q&A!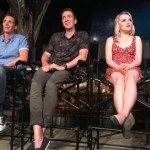 Jun 19, 2019
During the day-long media event which ended with a spectacular opening ceremony and a magical demonstration at Universal Orlando Resort's Islands of Adventure theme park on Tuesday, June 11, Leaky had the opportunity to preview Hagrid's Magical Creatures Motorbike Adventure. As a part of our inside look at the attraction, Leaky correspondent Kathy Paz and editor Dawn Johnson interviewed Universal creatives Gary Blumenstein and Alan Gilmore about the design process and climbed onto the enchanted motorbike for an exhilarating flight through the Forbidden Forest–and a few tips on caring for magical creatures. But our afternoon Q&A session with cast from the Harry Potter films may have rivaled all the attraction's thrills!
In the pre-show staging area adjacent to the tunnel leading from the graffitied antechamber, media representatives filed into rows, filling the back half of the stone room bright with professional lighting. Those of us in front knelt or sat so that we formed a loosely tiered huddle–all able to hear and be heard, take photos and grab video for fans back home and around the world. Before us sat Tom Felton (Draco Malfoy), James Phelps (Fred Weasley), Oliver Phelps (George Weasley), Evanna Lynch (Luna Lovegood) and Warwick Davis (Professor Flitwick/Griphook).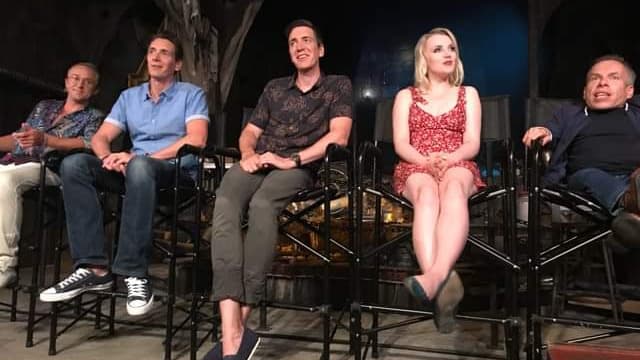 Star-struck though we were, the most pressing matter was to engage these childhood favorites in a discussion of Harry Potter and, more specifically, the new Hagrid's Magical Creatures Motorbike Adventure ride. Tom Felton kicked off the Q&A…
Tom Felton: I mean, like I said, I've only ridden it three times. I still don't feel like I've taken the whole thing in. It's the sheer speed of it, really. I don't know what I was expecting, how fast it would be, but it's nippy.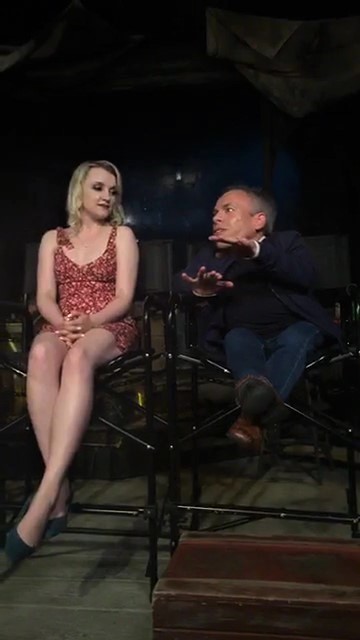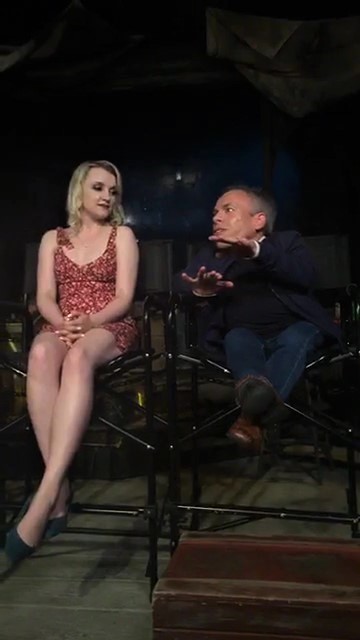 Warwick Davis: Yah, it's very different from the average roller coaster here–the fact that it does accelerate very, very quickly and also the fact that it's very close to the ground. That's, uh, often coasters take us very high up, and this one sticks very close to the ground, which increases that feeling of speed, and also, I think, the whole immersive, kind of, story element to this roller coaster sets the bar as well. And the fact that you get to learn things about Hagrid and his kind of care of magical creatures. You see a little bit of it in the movies and read about it in the books, but you can come and experience it as a guest through the ride up close and personal, which is fantastic.
Question: Hey, Tom, I was at the event in March in New York City when you were presenting the ride to us, and you said that you wanted to be the first one on the coaster, so, one, were you the first one on the coaster, and where did you sit on the ride? And if you sat on both the motorbike and the sidecar, which did you like better and why?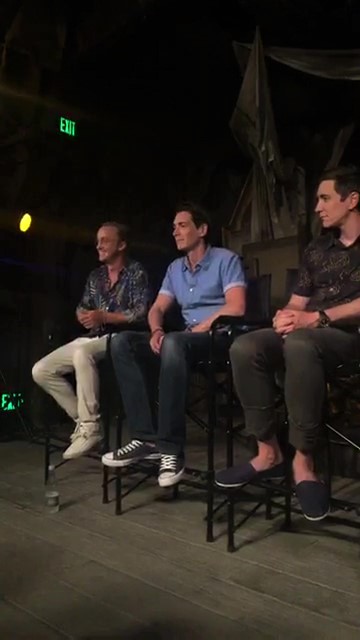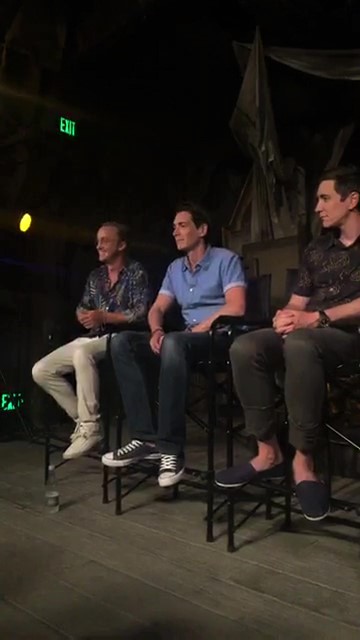 Tom Felton: Um, I don't think I was the very first, but Alan Gilmore promised fairly, fairly quick access and hogged the front bike, and I started on the sidecar and then went swiftly over to the motorbike. There's something about the handles that appeal to me very much, so yeah, I probably prefer the bike side.
Question: What's it been like coming back to the Wizarding World and a new element of it?
Oliver Phelps: I think, for me, it's just awesome to be able to see it again, and I've since learned, obviously, that this ride takes up the same space as all the other plans combined, and it is so immersive, which is the good thing about it. You're on it, and you don't really notice any other parts of the park–that's the way the Wizarding World really works, so it's brilliant to come back…such an immersive job for it.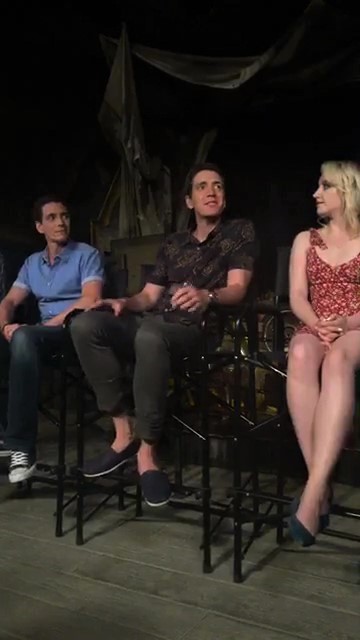 Warwick Davis: Yah, you know, we've all been talking about, you know, the fact, that we've been here for the opening of the Wizarding World and Diagon Alley opening and, you know, there's so many things that have happened over the years, it's lovely for us guys to reunite as a cast and talk about these things and get to experience them together, which is fantastic.
I think this in particular is a huge expansion to the Wizarding World and one which I think really enhances the experience. It gives people something very different, and all the rides that are here are very different in the way they work and the way they operate and the technicalities and, you know, save it for this one, if you're a fan of roller coasters or you're a fan of, you know, Harry Potter, it'll tick all the boxes for everybody. You know, I don't think you just have to be a fan of Harry Potter come and enjoy this as an experience, as a roller coaster, because I think it is so unique.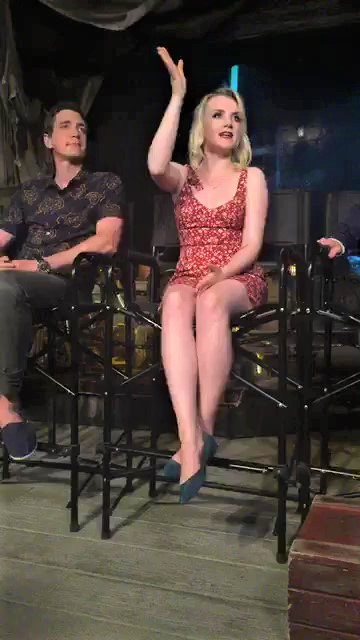 Evanna Lynch: Yah, and also I think that the makers of these rides are really nerdy. Like, they really love all the details. There's that room with all the graffiti, and there's somebody who's like, "Oh, it says, Lily," no, "James loves Lily." You can find–and I was like, "Oh no, I forgot about these little things." And yesterday when they were telling us about the ride, we basically had a Care of Magical Creatures lesson. The guy was like, "Okay, this is a Blast-Ended Skrewt. It mated with the Manticore and the Crab." And it was just like, oh my God, like, this is nerdy stuff.
Question: When you guys were asked to get involved with the franchise and the films, did you ever think that this amount of years on things would still be opening and you'd be doing press events like this and, you know, everyone would still be as captivated as they were 13 years ago?
Warwick Davis: I mean, all that comes from the literature being quite so rich and, you know, the fact that then you can make feature films of that is a big testament to how rich and detailed those books are, but there's so much you can't tell in a feature film, and that's what, you know, Universal can dip into, is that other material, and start to create, you know, the wider Wizarding World, as it were, here at Universal and these experiences that all tie back into that, kind of, original kind of notion of the things we see in film but give us further experiences of that, which is fantastic.
But I think, when we were making the films, we didn't have any idea that we were one day gonna be able to experience it within a theme park environment like this. I mean, it's, uh, it's fantastic to be able to do that. But I think that's when you see when guests come in to the park, and I remember being here for the opening of Hogsmeade, initially the Wizarding World, and that first morning we opened the gates to guests to come through, just seeing their faces was just such a delight and, uh, I think the same is gonna happen when they open this ride in a couple days time. You know, you're just, you're gonna be grinning from ear to ear. You know, it's a brand new experience.
Question: So, question for all of you–obviously, this ride is all about magical creatures, if you could own a magical creature, which one would it be?
James Phelps: Be one?
Question: No, if you could own one?
James Phelps: Niffler. I think it would be cool. They're cute, and I could send him into all of their rooms to get some spending money while we're here.
Oliver Phelps: I'll take a unicorn. Um, I don't know why.
Tom Felton: What would you do with a unicorn? (laughs)
Oliver Phelps: What would you not–could you imagine? You could go to a race…they're quite aerodynamic.
Tom Felton: I was gonna say I was gonna have a Buckbeak, but I don't know what I'd do with that.
Oliver Phelps: A Hippogriff farm?
Tom Felton: Yah, that would be pretty cool.
Evanna Lynch: I want to know why nobody's saying Phoenix. It'd be ambitious…Um, but they're really loyal…
Warwick Davis: Just a fire hazard though, really.
Evanna Lynch: A fire hazard?
Oliver Phelps: Yah, if you get too close, it's hot in here.
Evanna Lynch: I don't know…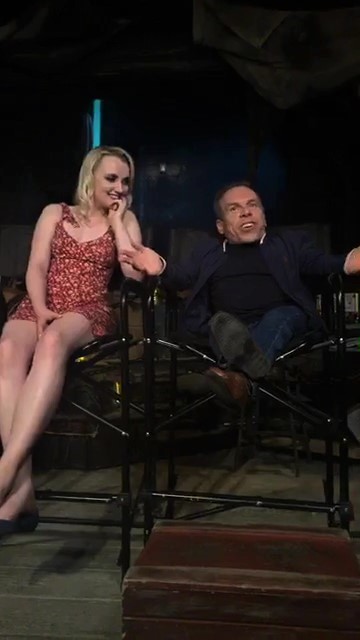 Warwick Davis: Something smaller. You want something manageable, don't you? Because otherwise the feeding–it's what you learn about here, because Hagrid's trying to figure out what he's gonna feed these…so you know, small, manageable, something that's gonna be good for the environment. Maybe something that eats trash. Wouldn't it be great if there was a creature like that? You could just kind of feed it everything that we're dashing about.
Evanna Lynch: That's not a thing.
Warwick Davis: It could be!
Evanna Lynch: Or a house elf, but I wouldn't own him. I'd have a free house elf.
Oliver Phelps: You'd pay him.
Evanna Lynch: Yah, just to talk to…(laughs) Pay him? Yah.
Question: It's probably the most character-driven ride in the Wizarding World so far–what do you think it is about Hagrid that makes him the perfect fit? Is he kind of a guardian for his students?
Evanna Lynch: Because they always want the rides to go a bit wrong. (Laughs) There's a bit where he tries to do magic, and it goes bad. Yah, that's probably the fun of those rides. They're unpredictable, and that's part of the fun of the magical world. You never know what's gonna happen, especially with Hagrid as your guide.
Tom Felton: He's a lovable oaf.
Question: We're streaming live on MuggleNet's Facebook page–for all of you, you've talked about the graffiti a little bit on the walls, if your character could draw or write something on the walls of the immersive queue, what would it be?
Warwick Davis: "Flitwick was here," very low down.
Oliver Phelps: I think Fred and George's would be something a bit more–obscene. You know, like those ones you see in the park. It would be something a bit quirky.
James Phelps: I think it would be, when you went to read it, it would like jump out and scare you or something like that.
Oliver Phelps: Yes, yes.
Tom Felton: Probably something very rude that I actually can't repeat.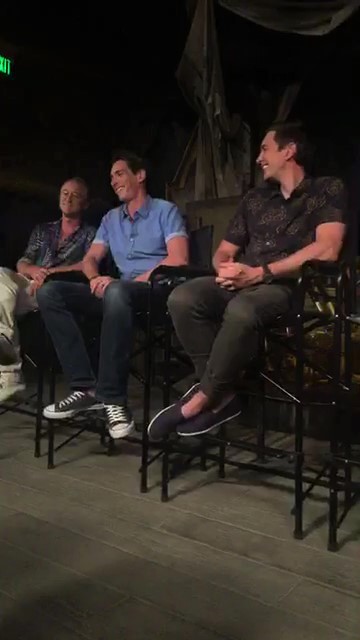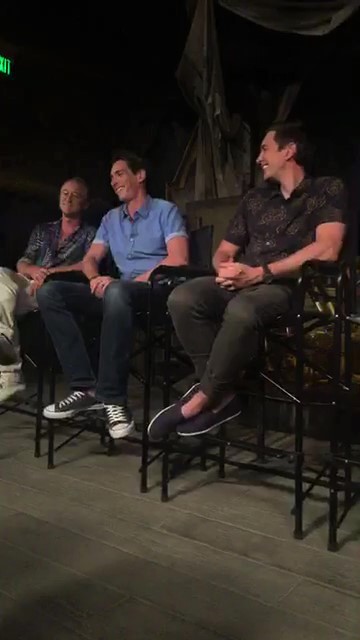 Evanna Lynch: Um, I think Luna would draw a Crumple-Horned Snorkack. Yah. She's quite a good artist. Or maybe like, I don't know, maybe the latest Quibbler headline, yah.
Question: Who screamed the most on the ride?
Oliver Phelps: Um, he's not here, so I'll say Rupert.
James Phelps: I didn't smile because I really loved the Dragon Challenge, the ride that was here–[it] was one of my favorite rides in the world, so when they said they were replacing it, I was a bit, "Unhhh, let's hope it works!" But I think to replace it with something like, we're not just saying this is a great ride, it definitely is a great ride–I think that's what's been so cool. Especially hearing Rupert's funny screaming.
Tom Felton: YES. It's a unique high pitch.
Question: So when you come to the park, what's the one thing that you have to do before you leave?
Tom Felton: Apple Crumble ice cream. I only just got it yesterday, but I had like eight scoops of it. It was ridiculous. No, something that James was saying actually, about this being a ride before–I vividly remember coming here with I was nine years old. TWICE. And throwing up actually on that ride. Just to have been told then that I'd have the chance to come back 21 years later and be part of it is–I wouldn't have believed it. So I pinch myself every time I could back and see people walking around in Slytherin gowns and stuff like that, so, uh, I always have to have a walk through Diagon Alley just to take it all in, really, and see how far the whole world has come.
James Phelps: I have the Butterbeer ice cream. That's a cheeky little treat.
Oliver Phelps: I haven't done it yet, but I've heard, because someone was hogging the front of the ride, to ride the front of the motorbike.
Tom Felton: Oh, yah, sorry about that.
Oliver: Um, yah, the motorcycle on this ride.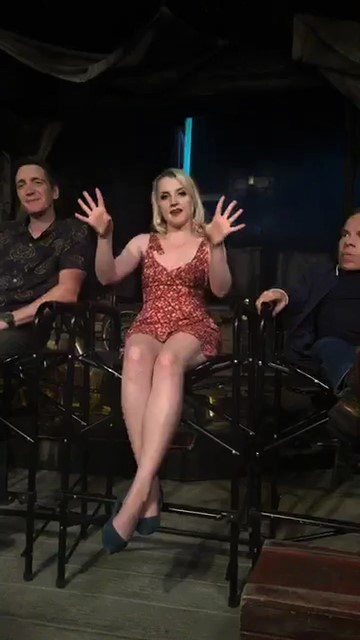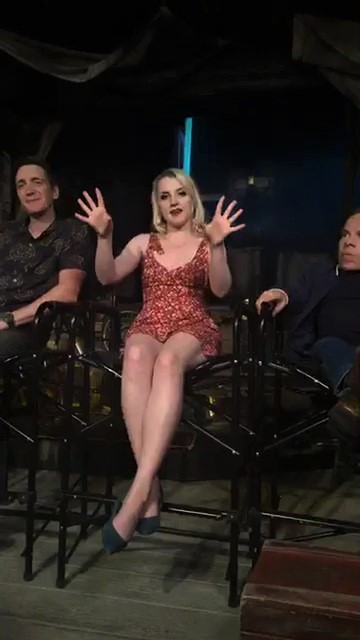 Evanna Lynch: I would say, like, just the experience of walking into Diagon Alley, when you go from Muggle into Wizarding World–that's just always so great because that's the moment that you get to live that "Harry" experience, yah.
Warwick Davis: I would say–eat at the Three Broomsticks because when I'm away from the UK missing British food, I can go in there and have something that feels very British. It's very nice actually. As theme park food goes, it's delicious.
Watch the full video of our live-stream from the Q&A session here!
For the full recap of the media event celebrating the opening of Hagrid's Magical Creatures Motorbike Adventure, including our social media coverage of the design team interviews, the Q&A with Harry Potter cast and the magical evening ceremony on Tuesday, June 11, read here.
For our full write-up of the interviews with Creative Director Gary Blumenstein and Art Director Alan Gilmore, including information about hidden details, the storycoaster's backstory, the featured creatures, the incredible animatronics, future attractions and, of course, Blumenstein and Gilmore's favorite parts of the ride, read here.
For our detailed description of the Hagrid's Magical Creatures Motorbike Adventure ride, read here. If you've had the opportunity to ride it, tell us your favorite part! If you haven't, beware, there are spoilers within–so if you'd rather be surprised, proceed with caution!