Incredible Custom-Built LEGO Hogwarts!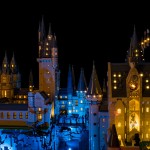 Jul 01, 2019
Hyungmin Park has done it again! The LEGO mastermind who previously created evil Sorceress Maleficent's (Sleeping Beauty) castle and famous London and Sydney landmarks has brought us an incredible custom rendition of Hogwarts School of Witchcraft and Wizardry.
After Hyungmin Park revealed the spellbinding creation on Flickr back in February, The Brothers Brick, a LEGO website for adult fans and builders, unearthed and shared the stunning images to their page last week. If you're a LEGO fan, be sure to check The Brothers Brick website for new submissions, reviews and features!
It's not just the iconic turreted school Hyungmin Park has re-imagined; scenes on the Hogwarts grounds include first-year students crossing the Great Lake in boats, each individually lit, Harry and Ron trapped in Arthur's Ford Anglia in the Whomping Willow from Chamber of Secrets and Harry duelling with Lord Voldemort, lit beautifully to portray the powerful Priori Incantatem connection between the two wands.
Here are some of the top images from Hyungmin Park's Flickr …
One of the main talking points of Hyungmin Park's creations is the application of LED lighting to help create atmosphere and bring the enchanting landscapes to life. Although no one knows how many bricks or lights were used to complete this complex custom build of Hogwarts, it perfectly captures this beloved school and other important Harry Potter landmarks.
The steep stone steps winding down the rocky cliff face to the boathouse, where Professor Snape meets his untimely fate in Harry Potter and the Deathly Hallows, is a favourite part of the structure. 
For more images of Hyungmin Park's masterpiece, click here. Discuss your favourite scenes in the comments section below!