Theater Round-Up: 'Cursed Child' San Francisco Cast Announced and James Snyder Joins BroadwayCon!
Aug 05, 2019
This week, we have BIG news for theater fans, news that spans the coasts of North America!
On the Pacific side of the continent, Harry Potter and the Cursed Child announced the cast of the San Francisco production, now in rehearsals before an October premiere. And on the Atlantic side, James Snyder continues to be an active representative of the Broadway cast with another episode of his vlog, "Magic to Do," an appearance on Broadway.com's #LiveAtFive program and, last, but by no means least, the announcement that he's officially joined the lineup of BroadwayCon!
Read on for more details.
Cast for Harry Potter and the Cursed Child San Francisco Announced
Introducing the witches and wizards of the west coast! Here is the first look at the Harry Potter and the Cursed Child San Francisco Cast, for the first time together in the rehearsal room. #CursedChildSFpic.twitter.com/91O8pxEEby

— Harry Potter and the Cursed Child SF (@HPPlaySF) August 2, 2019
On Friday, Playbill unveiled the information Cursed Child fans had been waiting for–now the production has a cast! With the Oct. 23 opening fast approaching, it's good to see that these newcomers to the wizarding world are knee deep in rehearsals and robed for success.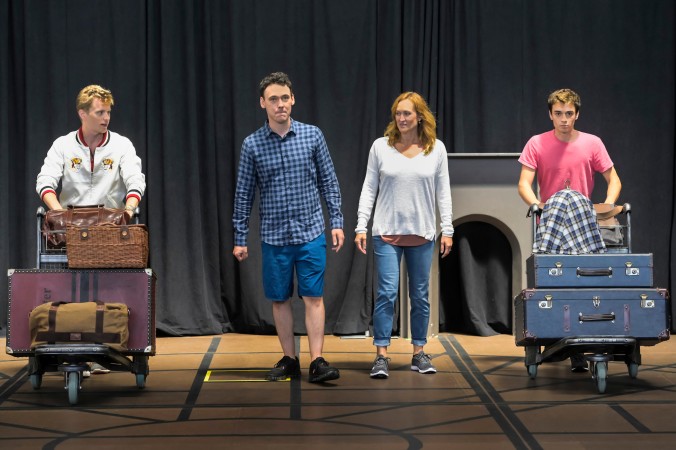 From left to right, we are introduced to William Bednar, presumably the eldest son of Harry and Ginny, James Sirius Potter; John Skelley, the newest Chosen One to grace the stage; Angela Reed, portraying his wife and childhood sweetheart, Ginny Potter; and Benjamin Papac , filling the role of the lonely and conflicted Albus Severus Potter.
Though they may be heading for trouble on stage at the Curran, in the rehearsal room Skelley and Papac look to be developed a good rapport!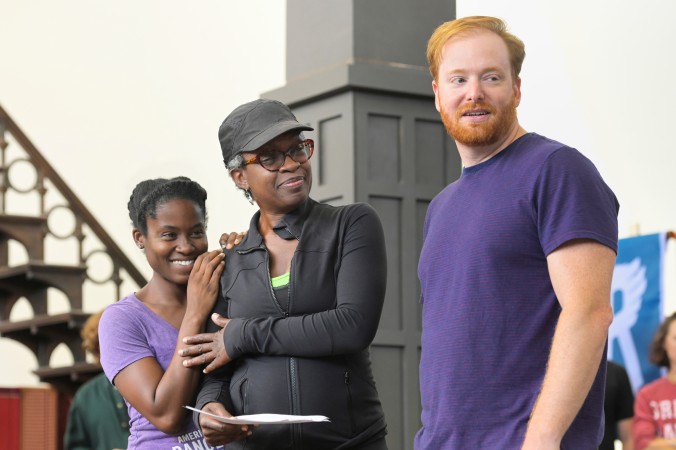 The play also ushers in a new Weasley family, and we offer a warm welcome to Folami Williams, playing Rose Granger-Weasley, Yanna McIntosh, in the coveted role of Minister of Magic Hermione Granger, and David Abeles, portraying Harry's longtime best friend Ron Weasley.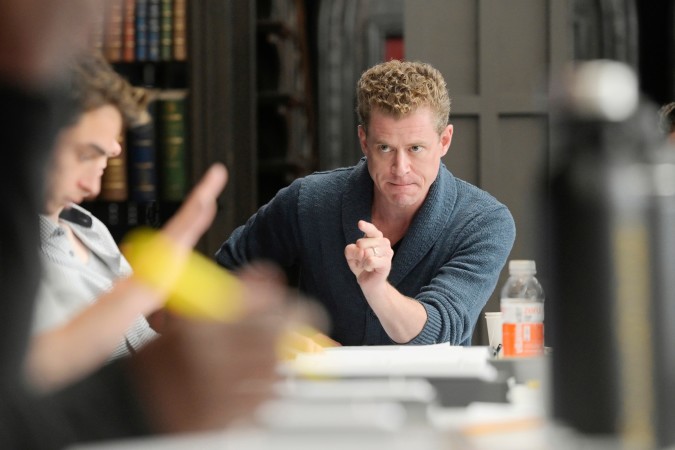 While the drama promises plenty of magical thrills, the show wouldn't be complete without Harry's childhood nemesis and reluctant ally rounding out the cast. Lucas Hall takes on the part of Draco Malfoy, father to Jon Steiger's Scorpius. We met Steiger at San Diego Comic Con, where he connected with Broadway's Albus for some convention hijinks worthy of the Weasley twins!
According to Playbill, the primary cast will be joined by the following supporting actors and actresses: Theo Allyn, Ebony Blake, Melanie Brezill, Shannon Cochran, Irving Dyson Jr., Kita Grayson, Logan James Hall, Abbi Hawk, Corey Hedy, Kyle Hines, Nathan Hosner, Nicholas Hyland, Charles Janasz, Katherine Leask, Joel Leffert, Andrew Long, Lily Mojekwu, Emily Murphy, Steve O'Connell, Erik Olson, Christian Pedersen, Julian Rozzell Jr., Tuck Sweeney, Geoffrey Wade, Lauren Zakrin and Brittany Zeinstra.
Visit Playbill here to view more images of these fledgling witches and wizards in rehearsal!
James Snyder Joins BroadwayCon, Appears on "Magic to Do" and #LiveAtFive
Look who's coming to BroadwayCon! Please welcome Damon Daunno, @_mandygonzalez, @kelliohara, and @thejamessnyder ? https://t.co/jYvtrzUKKz pic.twitter.com/f7Axvva8vG

— BroadwayCon (@bwaycon) August 1, 2019
In big news from the opposite coast, James Snyder joins the lineup for BroadwayCon! He's been a delight at the Lyric as Broadway's Boy Who Lived and continues to entertain and amuse as the host of Broadway.com's "Magic to Do" vlog. Here's our recap of his latest entry!
Episode 5: Chatting With Myrtle
Snyder opens the episode on a train platform (no, not that one), where he's set to mingle with commuters traveling into the city before magically appearing backstage at the Lyric.
Always up for a spot of mischief, he drags stage managers Derek DiGregorio and Rachel Sterner into a game of "Bean Boozled" and draws the losing bean–canned dog food!–which prompts him to swiftly move on to the next bit.
He apparates back onto the scene in full Harry Potter costume, though its intercut with another "Crouching Potter, Hidden Dad Joke," helped along by the gracious assistance of Matt Mueller.
Finally, Snyder sits down for a chat with Lauren Nicole Cipoletti, who plays Moaning Myrtle. Cipoletti says that one of her proudest onstage accomplishments is mastering "the sink." Where she originally thought she would be floating or flying to portray the ghost, it turns out Steven Hogget planned for her to pull off what Snyder calls "borderline gymnastics" with the prop.
In terms of preparation for the role, Cipoletti reveals that she read all the books "over and over" as a child, but after booking the part, revisited the books that specifically mention Moaning Myrtle. She also watched all the films during the audition process.
Snyder follows this revelation by asking if it feels different coming back to the stories as a grownup. Cipoletti muses that since the last film came out in 2004, she never thought she'd be a part of the wizarding world, but when Cursed Child came out, she felt, "This is my chance! This is my chance to live the dream that I wanted to do as a child!"
After this entertaining interlude concludes, the episode cuts to a sweet scene of Snyder with his young daughter Willow and son Oliver, demonstrating what a fantastic dad he is, a fact which no doubt contributes to his ability to authentically plumb the depths of Harry's parenting highs and lows.
And, of course, no episode would be complete without a new installment of "Mediocre Moments in Magic," which is always worth the view!
Finally, Snyder signed off with audience members lined up outside the backstage door of the Lyric. It was clearly a memorable night, and we're looking forward to the next behind-the-scenes look at the making of the magic!
Watch Episode 5 below.
#LiveAtFive With James Snyder
Snyder also appeared on Broadway.com's daily Facebook Live news program #LiveAtFive last Wednesday to celebrate Harry Potter's July 31 birthday–and what a celebration it was! He kicked off the interview by sharing an incredible fact about the fandom, revealing: "I just read a statistic that one in 15 people own a Harry Potter book…yeah, in the world, not in the United States. So the world over."
That's a mind-blowing figure and certainly explains why the popularity of the series and the growth of the franchise, including the expansion and success of Harry Potter and the Cursed Child, show no signs of diminishing!
Interestingly, Snyder divulged that he did not originally audition for the role of the Chosen One. In fact, he first sought out the part of Draco Malfoy. He said:
"I went in for Draco Malfoy first. I had two months to prepare for Draco Malfoy, and so I dug in…and then they were like, 'Yeah, so they want to see you for Harry Potter,' and I had, like, three days to prepare for that…so I disappeared into my basement for a couple days."
What's even more ironic about Snyder's approach to landing a role in the play, is that he has personal ties to both Slytherin and Gryffindor houses, making him a good fit for Malfoy but, clearly, an even better fit for Harry who, as all fans know, could have been sorted into either. He explained:
"When Pottermore first came out, I was like, I'm on board. Boom. Sign me up. Great. I got sorted into Slytherin. I was a little like–huh…That being said, Pottermore then added questions. Because I think they were having, they just wanted to expand the quiz. And I was sorted into Gryffindor. And I asked Pottermore, and they said, 'You got to go with the new one.' So even if I, you know, so I am a Gryffindor. But I would say I've got a touch of Slytherin in there, too." 
He seems to be relishing the part he was born to play, but he acknowledges that it's a humbling thing to take on, saying:
"It's very humbling. Well, because everyone has an opinion about what Harry should be like. And so I really think I was very clear going into this…it was really for me, getting out of the way, you know? And I really just…knowing where Harry was coming from and what he was trying to get done. Really, I feel like the less ego I brought to it, [the better]." 
And though Snyder may have begun this process "digging in" to Malfoy's character, he's completely invested in Harry now. Reflecting on Harry's journey and the themes of the play, he observed:
"I don't know if you can sympathize with, you know, having an infamous parent or a famous parent or any kind of parent–the expectations. And Albus, in his effort to define his role or his place in the world, sends us on a massive journey of hijinks and magic, and I would say, just, it's really at the end of the day about a dad trying to find his way, or parents trying to be better parents, and people trying to be better people and understand each other in a different way."
Watch the full #LiveAtFive show, of which these excerpts are only a brief snippet, below!