Weekly Round-Up: Emma Watson Launches Workplace Harassment Helpline, Maggie Smith in New Downton Abbey Images and More!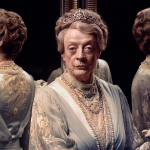 Aug 11, 2019
This has been one of the most magical weeks of the year at Leaky! We went to Dallas, Texas for the first of three 2019 Leakycons and saw Harry Potter cast, heard spellbinding Wizard Wrock, experienced amazing panels and cosplay and oh the Potter merch! And we announced that Leakycon 2020 will be returning to Orlando next summer! Earlier in the week, we attended the premiere of the Harry Potter Mini Boden Collection, shared news of the Wizards Unite 2.2.0 Update, as well as a brand new Fang and Hagrid's Hut Pop! From Funko.
This week in our Actors Roundup Emma Watson launches a legal advice helpline with Time's Up, new photos of Maggie Smith and the cast of Downton Abbey, Daniel Radcliffe pranks a toy store on Alphabeticall, Jason Isaacs shares a message with the cast of The OA after its supposed cancellation, a sneak peek of the upcoming Thriller Mary starring Gary Oldman, Alison Sudol goes on tour and more!
Emma Watson Launches Workplace Sexual Harassment Hotline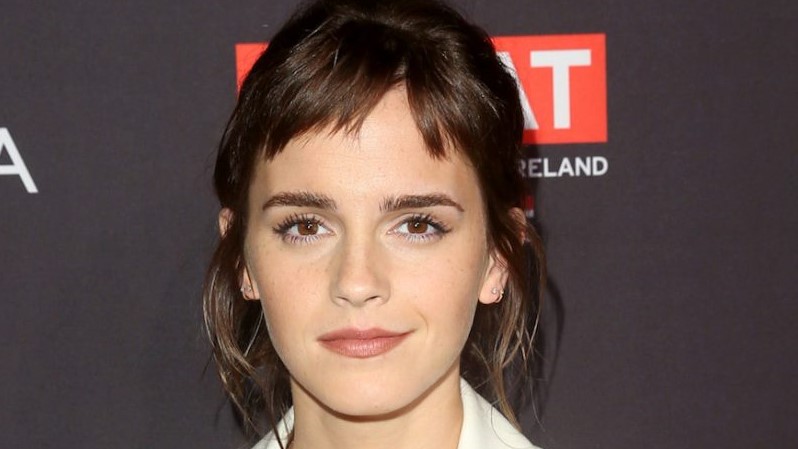 Emma Watson, champion of women's equality and prominent voice of the #MeToo movement is amplifying the conversation surrounding women and sexual violence with a new program with Time's Up UK. Through the organization Rights of Women, Watson is launching a free legal helpline for women in England and Wales experiencing sexual harassment in the workplace.
"It's completely staggering to think that this is the only service of its type given that research has found that as many as one in two women experience sexual harassment in the workplace," Watson said in a statement according to Mashable. 

"Understanding what your rights are, how you can assert them, and the choices you have if you've experienced harassment, is such a vital part of creating safe workplaces for everyone, and this advice line is such a huge development in ensuring that all women are supported, wherever we work," she also explained.
According to The Guardian, Deeba Syed senior legal officer for Rights of Women said this about the new service,
"This advice line's purpose is to empower women to exercise their legal rights in the workplace. By advising women about their legal options and increasing their understanding of equalities and discrimination law, we will be able to help them make informed choices about next steps, including how to navigate the legal system with confidence."
Undoubtedly Hermione would be incredibly proud of Watson for creating this advocacy program. For those looking for assistance the helpline number is 020 7490 0152.
New Downton Abbey Images of Maggie Smith in Vanity Fair
Downton Abbey fans are anxiously awaiting the big screen adaptation of the popular British period drama starring Dame Maggie Smith, Harry Potter's Professor McGonagall, as matriarch Violet Crawley Dowager Countess of Grantham. The cast recently did a gorgeous costumed photoshoot with Vanity Fair and creator Jullian Fellows filled readers in on some new film details including one should excite Potter fans.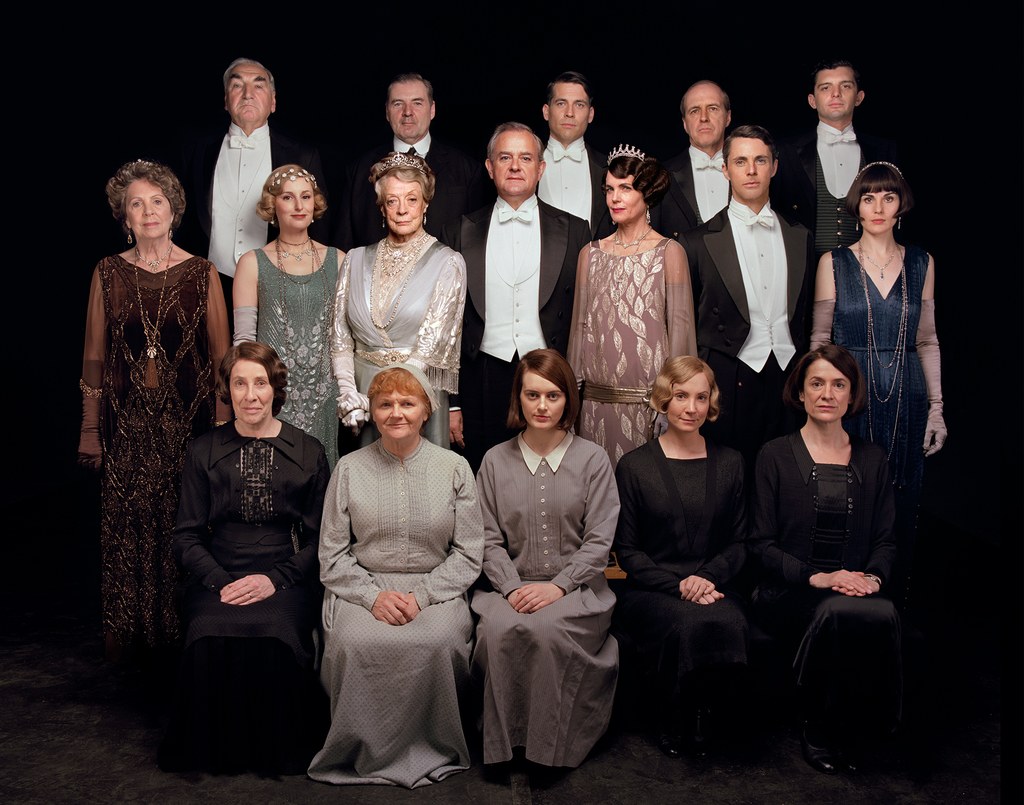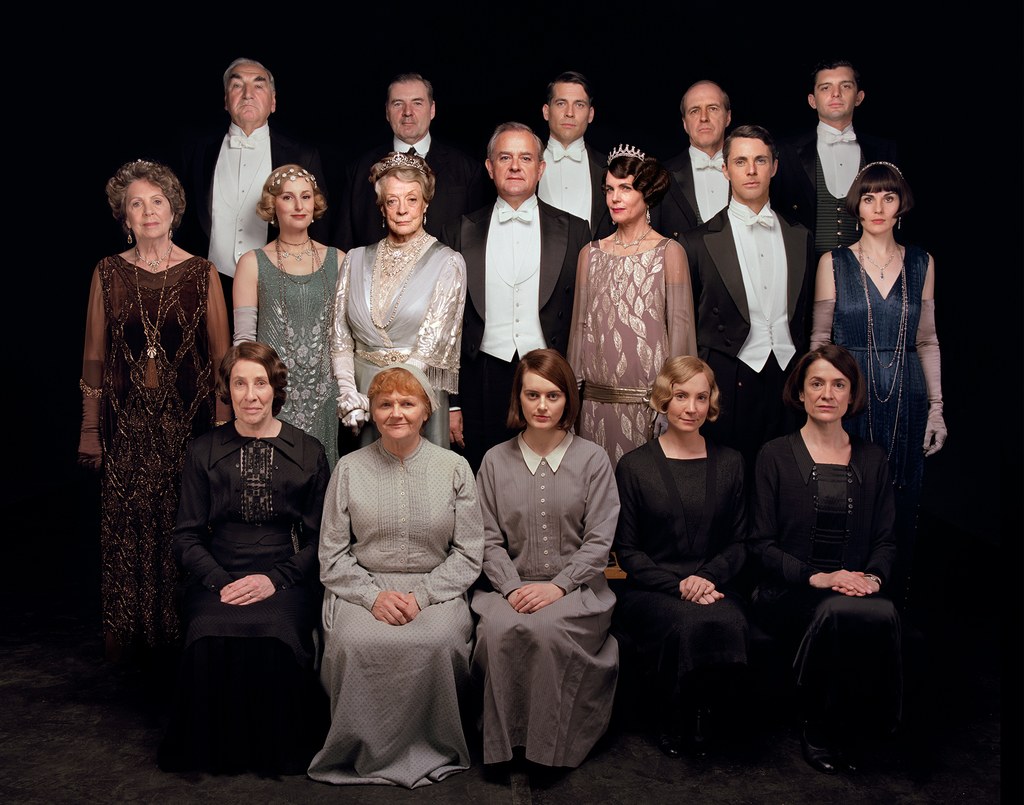 Image credit: Mark Neville
As we've been reporting throughout the year, the film also includes Imelda Staunton, who plays the devilishly pink Dolores Umbridge in the Potterverse. Vanity Fair says this about the relationship between Smith and Staunton's Downton characters,
"Dame Maggie Smith, as the dowager countess and resident queen of lethal quip, gets a new sparring partner in Imelda Staunton, who plays the dowager's distant cousin Lady Bagshaw."
We can't wait to see these two former witches at it again! We'll just need to wait a little longer.
Downton Abbey's official release date is September 20, 2019 for North American audiences and a week earlier internationally.
In the meantime fans can reserve tickets to a special screening of the film and Q & A with the cast! Jim Carter who plays Downton butler Mr. Carson and happens to be the real life husband of Imelda Staunton will host the cast panel at the Kiln Theatre September 29. Imelda Staunton will be in attendance with the rest of the cast to be announced soon. If Maggie Smith turns up, this could be one of those not-to-miss Potter reunions! General tickets go on sale August 12 and priority tickets are already available on the Kiln Cinema website.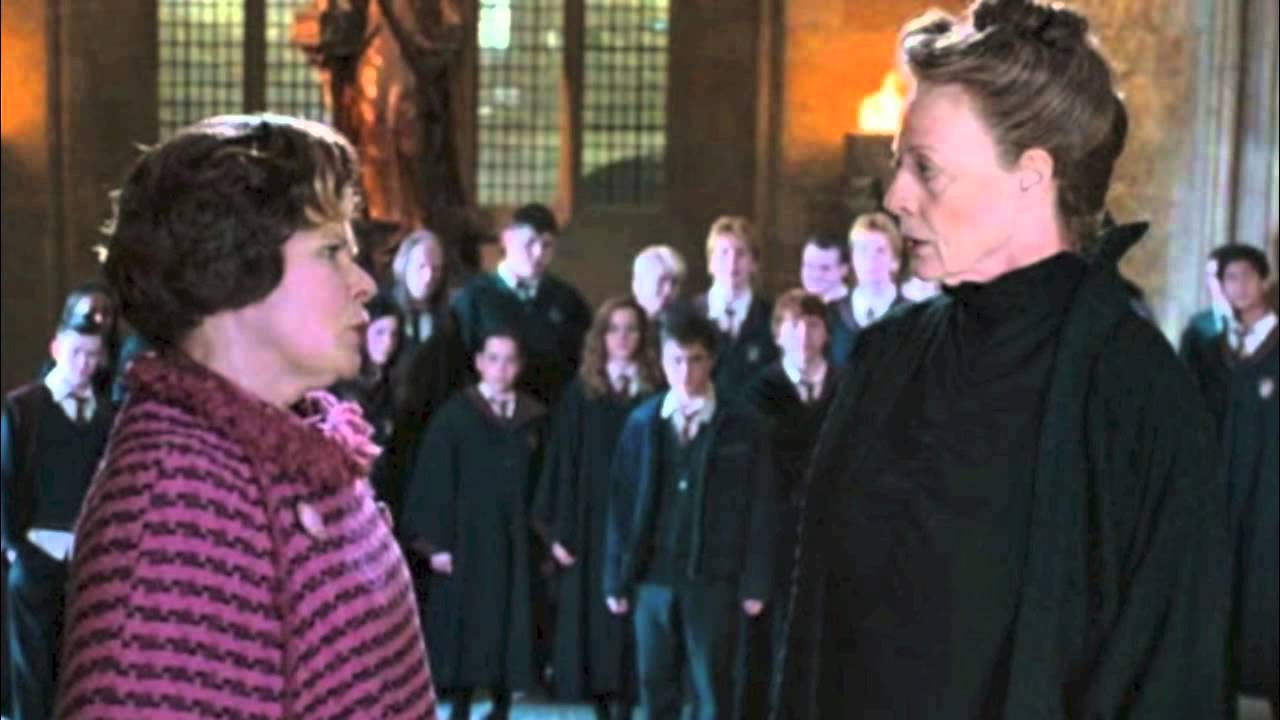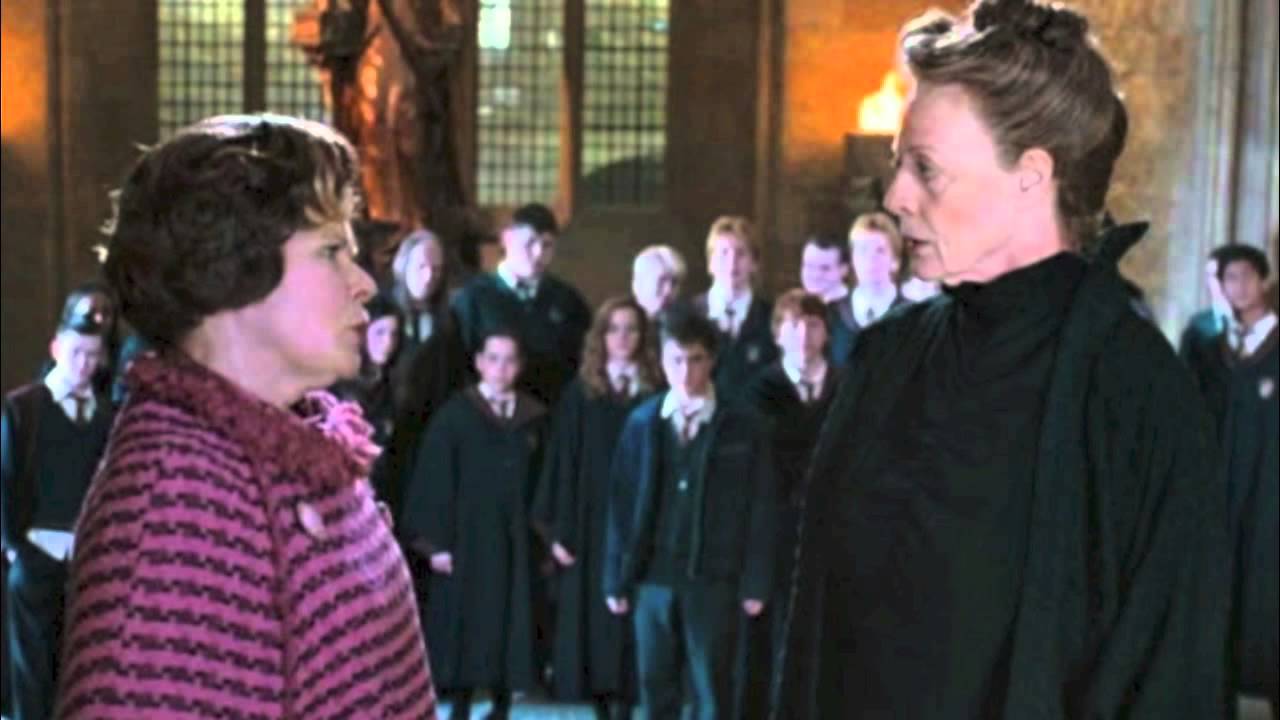 Playmobil Movie's Daniel Radcliffe Pranks a Toy Store
Last week we let you know that Daniel Radcliffe was making appearances on the Playmobil movie press tour and would be a guest on BBC Radio 1 to play Alphabeticall, a celebrity pranking show. Watch the hilarious call below when Radcliffe phones a toy store and has to begin each sentence with the next letter of the alphabet. Brilliant work Dan!

The OA Starring Jason Isaacs is Cancelled After Season Two
After a major cliffhanger of an ending to its first season way back in 2016, Netflix mystery sci fi fantasy The OA finally returned with a mind blowing second season earlier this year. The series stars Jason Isaacs, Harry Potter's Lucius Malfoy, as mad scientist of sorts Dr. Hunter Hap, who performed some near death experiments on four people held captive in his basement in season one. Isaacs shared an emotional message with his OA cast and crew below. We're almost as disappointed as he is that Netflix has cancelled the series, especially after the incredible ending to season two. And we're obviously not the only ones. A petition to Save The OA is circulating online, but that's not the only OA-related info flying around the net this week. A post on TruthorFiction has outlined a large list of observations about the show which seem to point toward the cancellation being an in-plot hoax. We might not usually share this kind of supposition here, but the evidence is very convincing that the (SPOILER) fourth wall breaker might be carrying out one of the biggest bluffs in TV history. We wouldn't put it past the brilliant Jason Isaacs to be a part of the scheme, if not hatch it himself. If you're a fan of the series, we encourage you to read the article and let us know what you think.
Farewell Prairie, who I loved, Homer, who I feared, Steve, who confused me, Scott, Rachel and Renata who I hoped would forgive me and understand in time, somewhere.
If you haven't see #TheOA on #Netflix you should. There'll be no new seasons, sadly, but by god we burned bright. pic.twitter.com/6IaR4qZn8B

— Jason Isaacs (@jasonsfolly) August 6, 2019
Isaacs, who played Captain Lorca in the newest installment of the Star Trek saga Star Trek Discovery, recently said he's be interested in going back to that universe. According to Metro Isaacs teased the return at Star Trek Las Vegas,
  'There are three different shows coming out and multiple seasons, and if I can squeeze back into that eight year-old's uniform, would do,' he added. 'Who wouldn't want to do it again? They are timeless stories.'
We would love to see him back! We'll let you know what we hear.
Also on the Jason Isaacs front, he played Captain Lorca in the newest installment of the Star Trek saga Star Trek Discovery, and recently said he's be interested in going back to that universe. According to Metro Isaacs teased the return at Star Trek Las Vegas,
  'There are three different shows coming out and multiple seasons, and if I can squeeze back into that eight year-old's uniform, would do,' he added. 'Who wouldn't want to do it again? They are timeless stories.'
We would love to see him back! We'll let you know what we hear.
A Sneak Peek of Mary Starring Gary Oldman
Academy Award winner Gary Oldman, Harry's godfather Sirius Black, stars in the upcoming film Mary. Get a preview of the thriller below described this way by Deadline,
"Oldman plays David, a struggling blue-collar captain looking to make a better life for his family. Strangely drawn to an abandoned ship named Mary that is up for auction, he impulsively buys the boat, believing it will be his family's ticket to happiness and prosperity. After they embark on their maiden journey, however, strange and frightening events begin to terrorize David and his family, causing them to turn on one another.The ship soon drifts off course, and it becomes clear they are being lured to an even greater evil waiting for them at sea."
Scary looking Mary releases in theaters and VOD October 11 just in time for Halloween.
Alison Sudol Hits the Road with her New EP Moonlite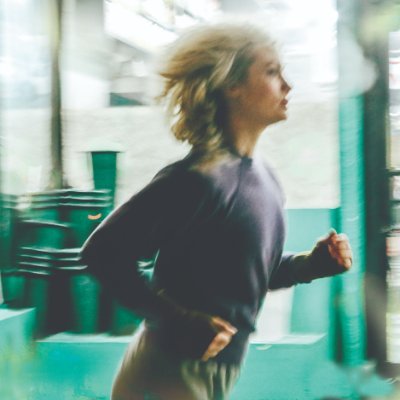 After releasing her first new music in six years last fall Alison Sudol is on tour with her follow-up EP Moonlite. The actress who plays Fantastic Beasts legilimens Queenie Goldstein is back to her musical roots where her career began. She recorded both the first new EP Moon and the latest release mainly in London during the filming of Crimes of Grindelwald. All That Matters In Music has this to say about Moonlite,
"Moonlite is a louder, more haunting and a darker version of Sudol's persona as she covers personal issues and reactions to the current world in just four tracks"
Are you a fan of Alison Sudol's music? Her tour schedule and tickets can be found on her website.
David Tennant as a Batman Villain?
Did you ever want to see a Polyjuiced Barty Crouch, Jr. cast a spell on Hufflepuff Triwizard Champion Cedric Diggory in Goblet of Fire? If so, you might get the chance to see the actor that played the Death Eater mess with Robert Pattinson in his upcoming role as DC's Batman. Digital artist William Gray via Heroic Hollywood has imagined David Tennant to step into the green suit as the next Riddler opposite the Caped Crusader. We'll always pine for Tennant as Doctor Who's Tenth Doctor but he plays one mean villain as evidence by Crouch and Jessica Jones' Kilgrave. We're keeping our fingers crossed this matchup comes to fruition on screen! What do you think?
Also new images have been released for one of Tennant's upcoming TV projects the Netflix police interrogation drama Criminal which debuts September 20.
Domhnall Gleeson on The Late Late Show
The next film for Domhnall Gleeson, known best to Potter fans as the oldest Weasley brother, Bill, is the upcoming crime drama The Kitchen. We're guessing the press tour for the film brought him to the Late Late Show this week. In the clip below, host James Corden has Gleeson talking about another project that may get a little more attention. Gleeson plays First Order General Hux the Star Wars films and is getting ready to reprise the role for the ninth and final installment in the series. Take a look at Gleeson below when he sings happy birthday as the galactic villain! The Kitchen opens August 9 and Star Wars: The Rise of Skywalker can be seen in theaters worldwide December 20.

A New TV Series for Carmen Ejogo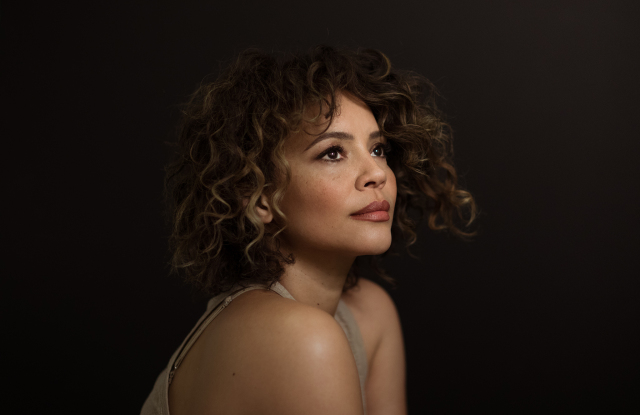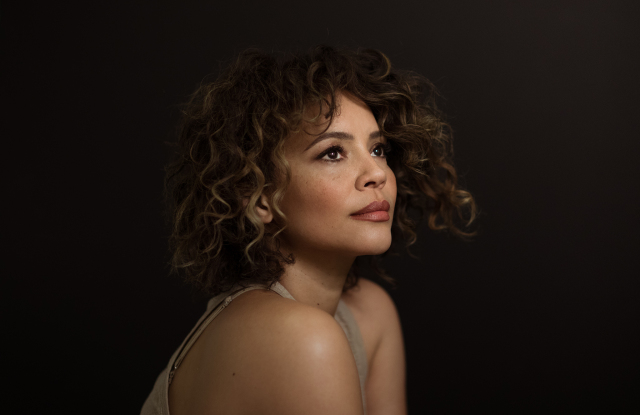 Carmen Ejogo, who's best known in the Wizarding World as MACUSA President Seraphina Picquery has joined an upcoming limited series from Netflix called Madame CJ Walker. Here's some info on the four-parter from Deadline; first the synopsis,
"The Oscar-winning Spencer stars as Sarah Breedlove, known as Madam C.J. Walker, the black hair care pioneer and mogul who overcame hostile turn-of-the-century America, epic rivalries, tumultuous marriages and family challenges to become America's first black, self-made female millionaire."
Here's what they have to say about her character, 
"Carmen Ejogo will play Addie, a hairstylist and former friend of Sarah Breedlove. She is a savvy business woman herself, who parlays her good looks and social standing into a profitable African American hair care business. Fiercely competitive, when she quickly dismisses Sarah's ambitions to be one of her sales women, charting a course to become Sarah's nemesis and rival.
Another strong female character for Ejogo. No word on when to expect Madame CJ Walker but we'll keep you posted.
Thanks for being with us for this week's Actors Round-Up. See our latest Theater Round-Up for the Harry Potter and Fantastic Beasts Wizards on stage!
Feature image credit: Mark Neville