Theater Round-Up: Jessie Cave Debuts 'Cave Women: A Work in Progress,' New 'Magic to Do' Vlogs and Updates on Jack Thorne Projects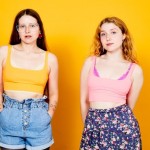 Aug 19, 2019
The incredible thing about the world of theater is its diversity. It spans the globe. It spans eras. It spans genres. And yet it continues to connect generations of theater-goers old and new in a magical way.
This week's round-up covers the debut of Jessie Cave's latest comedic effort, James Snyder's most recent entries in the hilarious behind-the-scenes vlog "Magic to Do," updates on four upcoming Jack Thorne projects, which now span theater, television and film, news of Cursed Child Broadway's participation in the NYC Broadway Week initiative and, finally, the announcement of a special exhibition of photography from the renowned Simon Annand.
Read on for more details!
Jessie Cave Debuts New Show
me and my sis do our new show for the first time next thurs in edinburgh. tickets: https://t.co/Qn4oDJ6tMhpic.twitter.com/jqN65ZyOkP

— Jessie Cave (@jessiecave) August 9, 2019
Jessie Cave, best known to Potter fans for her portrayal of Lavendar Brown, found recent success with her Sunrise tour and is now debuting a new comedy show in Edinburgh.
Cave Women: A Work in Progress features Cave along with her sister, Bebe, and for those planning to attend the festival, it sounds like a stop worth your while. The Scotsman enthused:
"There is absolutely nothing that can stop you from falling in love with this funny, fragile, hilarious and heart-breaking hour. The rawness and the newness of it simply add to its power, and the tiny unscripted asides to the laughter…

"I cannot imagine where the progress of this work might take it. It is already a beautiful, funny and frankly unforgettable thing."
The 55-minute production plays at Marlin's Wynd (Venue 296) at 12:05 p.m. this week.
James Snyder's "Magic to Do" Vlog: Episode 6 and 7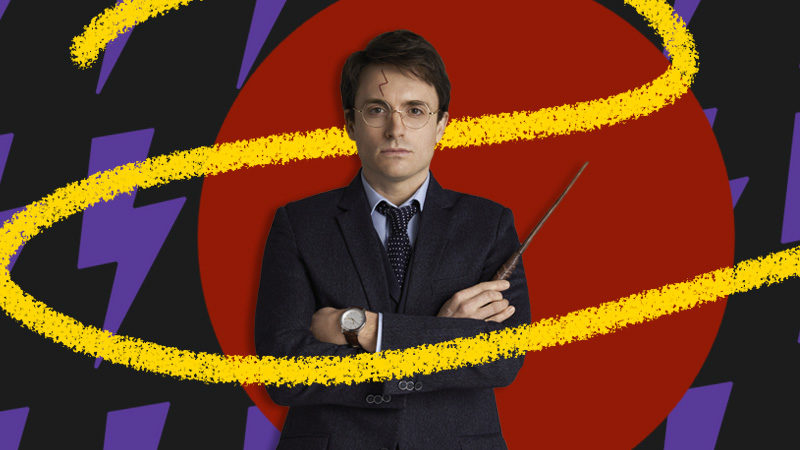 Episode 6
James Snyder's sixth episode of "Magic to Do" kicked off at the Broadway.com offices immediately following his appearance on #LiveAtFive last week. He promptly continued the Potter birthday celebration by purchasing "his own wand"–that's Harry's 11 3/4-inch holly with phoenix feather core, in case you didn't know. Fans outside the Lyric Theater even joined in with a spirited rendition of "Happy Birthday!"
Snyder couldn't let viewers enjoy the sentimentality of the moment for too long and cut to his popular "Crouching Potter, Hidden Dad Joke" segment. (You'll just have to watch it for yourself. The delivery is everything!)
After that amusing interlude, Snyder gave viewers a glimpse of the Lyric ushers in action. From updating playbills to discussing security, he noted that they work really hard and are "super nice." Snyder entreated attendees to treat them well and appreciate the effort put in by all to make the experience truly magical for fans.
Following his trek through the foyer, Snyder returned to the gift shop to point out all the fantastic Hogwarts merch available. (The stock of wands is the tip of the proverbial iceberg!)
After showing off "all the cool stuff we sell," Snyder introduced a new segment called "Between Two Shows." He sat down with child actors Jack Pravda and Zell Steele Morrow, both of whom play young Harry Potter, and the boys both spoke enthusiastically about how excited they were when they found out they'd booked the role.
Morrow said:
"It was so much fun because my sister actually works here in the merchandise department, and anyway, she brought me to her workplace one time. Basically, I was just, like, standing there, I was looking around and in one of the display cases she put my acceptance letter to Hogwarts…I was literally looking right at it, and I didn't even see it, and it didn't even come across in my mind…And she finally pointed it out to me, and I'm like–[GASPS]!"
Pravda added his story, saying:
"It's a little more boring. My mom just got the call in the kitchen from my agents, and I think I was trying not to freak out because I wanted to be able to sleep."
Watch the remainder of their conversation and the full episode below!
Episode 7
The seventh episode opened with James Snyder and Diane Davis (Ginny Potter) performing a bit of magic backstage at the Lyric before Snyder cracked another series of "Crouching Potter, Hidden Dad Jokes"–truly one of the best segments of the vlog. This time he even brought Jonno Roberts (Draco Malfoy) in for a twist, a "Dad Joke" face-off that went hilariously awry. It is a MUST WATCH.
Not that the episode could get much better after that but, in an unexpected turn, Snyder sat down to chat with surprise guest William McKenna, Melbourne's Scorpius Malfoy. They discussed McKenna's holiday in New York City and the shows he'd seen, as well as the differences between Broadway and Australian audiences.
Matt Mueller (Ron Weasley) made a reappearance for "Shower Thoughts" before heading into the "Between Two Shows" segment with Sarita Armani Nash, a member of the ensemble. It turns out Nash was an usher at the theater before being hired onto the production's cast. She related the story of how she disappeared from work after getting the job and couldn't tell anyone she was attending rehearsals instead.
Harry Potter and the Cursed Child truly bring the magic to life in remarkable ways! Catch the end of their interview and the full episode below.
Updates for Jack Thorne's The Solid Life of Sugar Water, Sunday, The Light and Enola Holmes
The Solid Life of Sugar Water
Deaf West Theatre will reprise Jack Thorne's The Solid Life of Sugar Water, which premiered at the Edinburgh Fringe Festival in 2016. According to Playbill, the lead roles were originally intended to be played by two speaking actors, even though one of the characters is deaf. The new rendition, however, will feature two deaf actors.
Artistic director David J. Kurs reflected:
 "It will be even more powerful performed by two Deaf actors. This is that rare play that will be made better by the addition of sign language: the 'bedroom speak' will be intensely visual, a quality that will also bring greater clarity to critical events as they unfold. It's an extraordinary look behind the curtain. The subject of intimacy in a Deaf couple is rarely addressed."  
The Solid Life of Sugar Water is set to open at the Los Angeles theater Sept. 8.
Sunday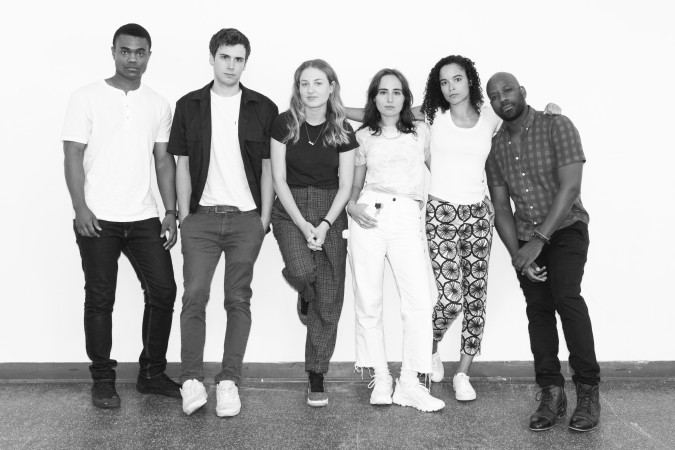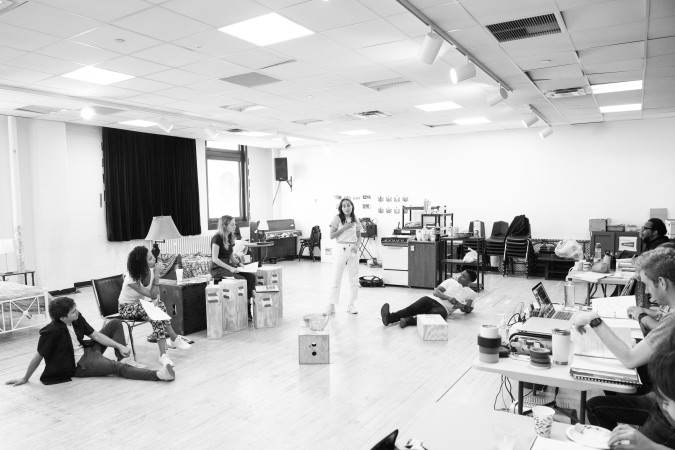 Playbill also reported that rehearsals, shown above, have begun for Thorne's new off-Broadway play Sunday, opening on the other side of the country at the Linda Gross Theatre.
As previously announced, the play, directed by Lee Sunday Evans, follows "friends [who] gather for a book group, anxious to prove their intellectual worth, but that anxiety gets the better of any actual discussion as emotional truths come pouring out."
Sunday will open for previews Sept. 4, followed by an official premiere on Sept. 23. View the full gallery of rehearsal photos here.
The Light
Actress Sarah Lancashire, who played Miriam in Jack Thorne's Kiri, will reunite with the writer for The Light, his third series examining the impact and reach of the media. Radio Times reported that the series, a collection of four hour-long episodes, will air on Channel Four.
The plot synopsis of the story is as follows:
"In a community that has been left behind, a large construction project offers hope for a better future; regeneration, and much needed employment. But an explosion, followed by a catastrophic collapse, leaves many dead, children included, and the community devastated…

"As communal grief gives way to a torrent of anger and blame, the community finds itself torn apart. Unwilling to accept that their children were to blame, the families cry for justice…It falls to Polly to hold the community together, and to face the challenging truths that begin to emerge."
Lancashire will play Polly, a Welsh woman whose politician husband supported the project and whose daughter is among those forever affected by the tragedy.
This series brings to completion a plan long in the works. In 2018 Thorne said:
"At the beginning of National Treasure we started talking about the possibilities of a trilogy which peeked behind the curtains of this country and tried to ask difficult questions about who we are and how the media paints us. I am so delighted we are going to get to finish that trilogy off."
National Treasure examined how the media spotlight brought shame, while Kiri explored how the media effected the placing of blame. Finally, The Light asks how the media influences, or skews, the search for justice.
The premiere date has not yet been announced.
Enola Holmes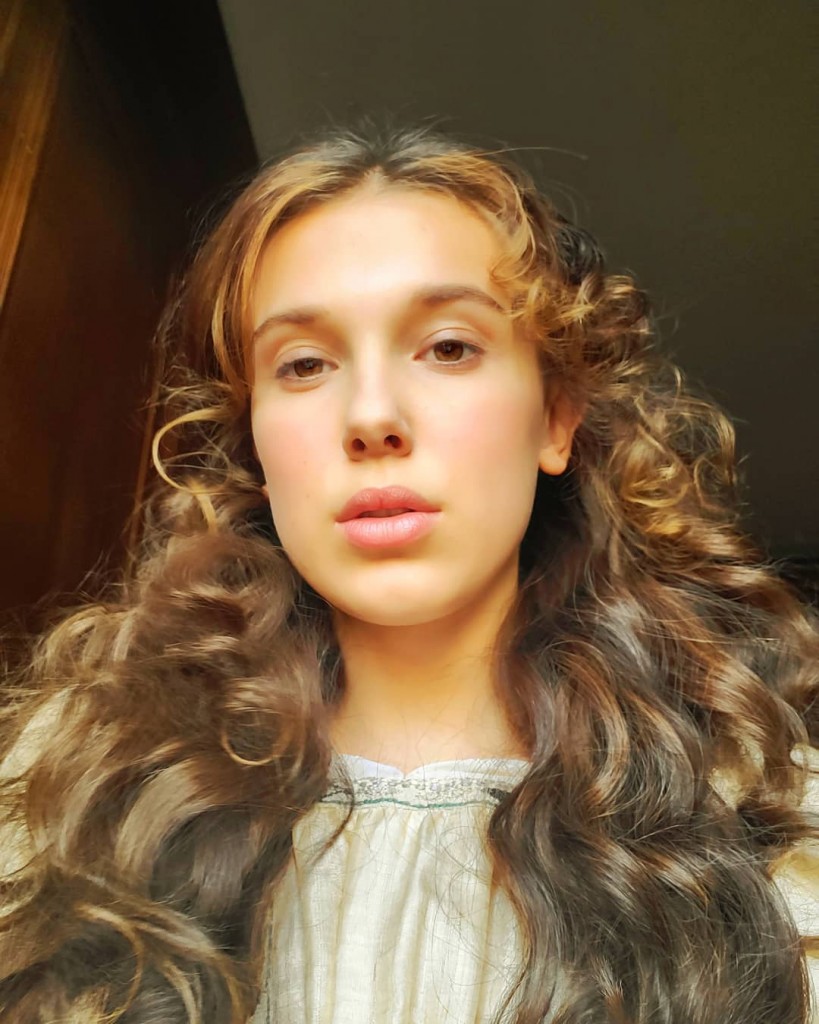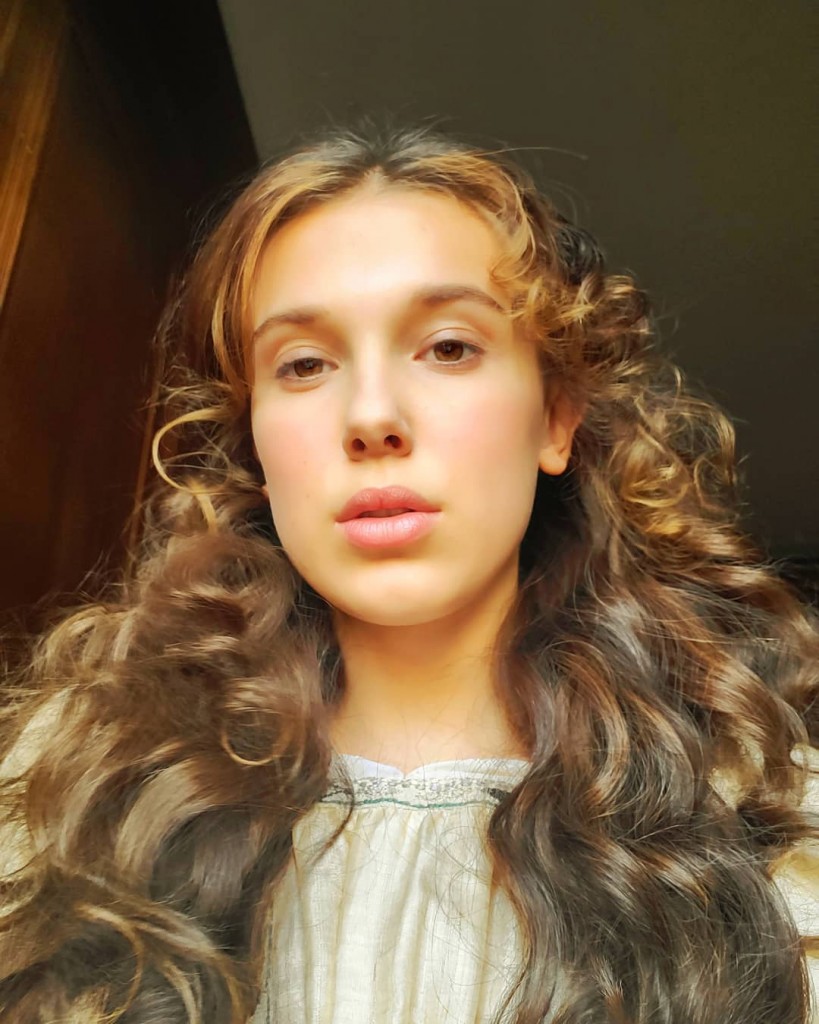 Actress Millie Bobbie Brown, who plays the titular role in Thorne's upcoming feature Enola Holmes, posted a first look photo of her hair, now updated for the film. We Got This Covered shared the photo, originally posted on Brown's Instagram.
Thorne, the playwright behind Cursed Child, was commissioned to pen the screenplay, and in yet another wizarding world connection, Brown will star alongside Harry Potter alum Helena Bonham Carter, who is signed on to play Eudoria Holmes, enigmatic mother to the famous siblings.
No release date has been set for this project either.
Harry Potter and the Cursed Child Joins NYC Broadway Week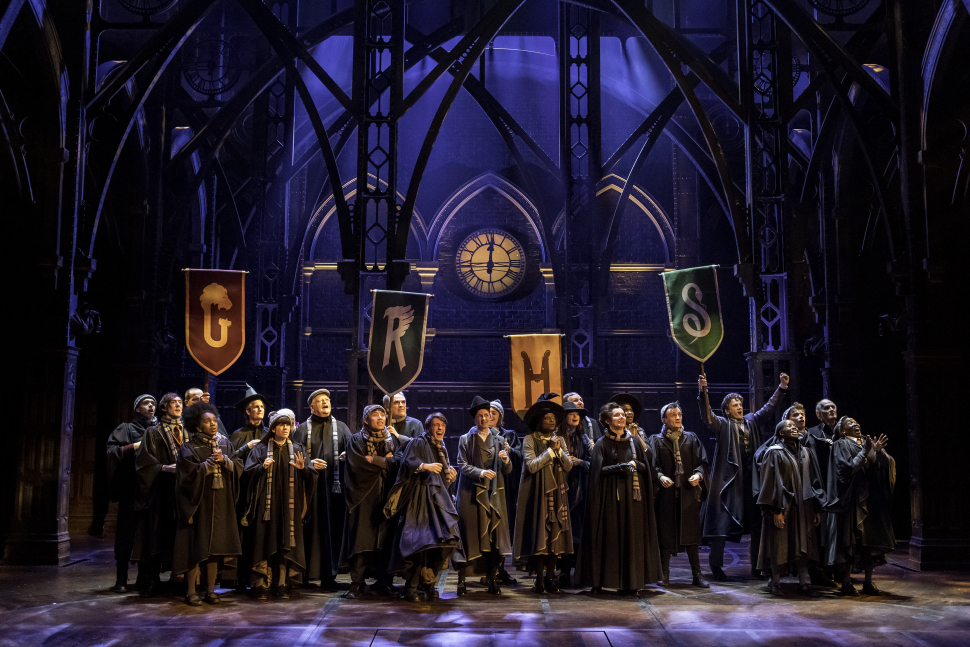 Harry Potter and the Cursed Child is one of 24 shows joining NYC & Company's NYC Broadway Week. The bi-annual campaign comes back for it's ninth year this September.
According to Playbill, attendees can purchase two-for-one tickets also gaining them entrance to the following shows: Oklahoma!, Betrayal, Come From Away, Tootsie, Slave Play,Waitress, Ain't Too Proud—The Life and Times of the Temptations, Aladdin, Beautiful: The Carole King Musical, Beetlejuice, The Book of Mormon, Chicago, Come From Away, Dear Evan Hansen, Derren Brown: Secret, Frozen, The Great Society, The Height of the Storm, The Lion King, Mean Girls, The Phantom of the Opera, Sea Wall/A Life, The Sound Inside and Wicked.
For more ticket information, visit the official NYC Broadway Week site here.
Simon Annand's Photo Exhibition Includes Potter Alums
Simon Annand is one of the UK's most well known portrait photographers. With a career spanning 35 years, she has captured many of Britain's most beloved theater icons, and this special exhibition opens at the Lawrence Batley Theatre in Huddersfield this September.
According to Broadway World, this rare collection of 74 never-seen-before photos will include some prominent Harry Potter alums. Among the stars featured are David Tennant (Barty Crouch, Jr.), Stephen Fry (audiobooks) and Maggie Smith (Minerva McGonagall).
Only a limited number of the subjects' names were released, including the notable Helen Mirren, Lily James, Simon Callow and Colin Firth, but with over 70 photos promised, there are sure to be some delightful surprises found on the exhibition walls–and hopefully a few more of them will be magical!