Doting grandparents commission Harry Potter playhouse for their lucky granddaughter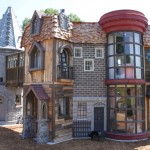 Aug 23, 2019
Dave and Ruby Dunlop are the grandparents every Harry Potter fan wishes we had.  They've just had a two-storey Harry Potter playhouse built in their backyard in Ontario, Canada, for their two-year-old granddaughter, Logan.  Logan is too young to have read the Harry Potter books or watched the films, but her parents are massive Harry Potter fans, which makes us wonder:  Who is the playhouse for, really?  I mean, look at it.  Who wouldn't want that, regardless of whether you have children?
The Dunlops commissioned the playhouse from Charmed Playhouses, and gave them free rein with the design.  The structure includes parts of several iconic buildings from the Potterverse, including the cupboard under the stairs from Number 4 Privet Drive, Platform 9 ¾, and Hogwarts.   There's even a slide to get from the second floor back down to the ground, reminiscent of the Gryffindor tower stairs that turn into a slide when boys try to enter the girls' dormitories.  The Dunlops won't reveal how much they paid, but Charmed Playhouses' creations range from $15,000-$250,000, so these grandparents are incredibly generous no matter where on the price spectrum this project fell.
Charmed Playhouse had fun with the artistic freedom they were given for this project, but it was a bit stressful to try to get all the Potter elements in there cohesively.  The design was rendered as blueprints and took a month and a half to build, followed by several days of installation work on-site.  We can imagine Logan's face when she first saw it!