Christmas at Hogwarts returns to Warner Bros. Studio Tour London
Sep 11, 2019
It's still technically summer but the Hogwarts Express departed, as usual, at 11am sharp on September 1, the term is flying by as fast as the house Quidditch players, and it's already time to start thinking about getting your tickets for Hogwarts in the Snow at Warner Bros. Studio Tour London.  The festive season runs from Saturday 16th November – Sunday 26th January 2020.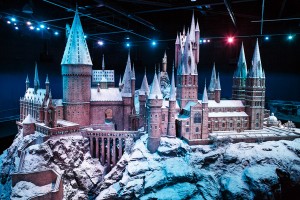 Warner Bros. will be decorating the film sets on the Studio Tour for the Christmas season:
"The festive transformation will begin in the Great Hall, which will be lined with Christmas trees decked with golden baubles and topped with witches on miniature broomsticks. The long dining tables will be dressed as they were for seasonal feasts at Hogwarts, complete with Christmas puddings surrounded by real flames. Discover the stage decorated as it was for the iconic Yule Ball scene, as seen in Harry Potter and the Goblet of Fire and get a taster of this incredible set dress featuring snow-covered Christmas trees, icicles and an orchestra of magical instruments."
In addition to enjoying the iconic sets and decorations, you will get a behind-the-scenes peek at how both fire and snow were made for the films.
Tickets will go on sale 16th December and can be purchased here.  Admission is £45, with special pricing available for children and families.  A Complete Studio Tour Package is £55 and includes a Digital Guide & Paperback Souvenir Guidebook.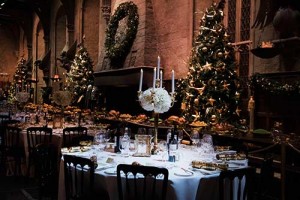 Dinner in the Great Hall will be offered Monday, Tuesday, and Wednesday, 9th-11th December, from 6pm-midnight.  Tickets go on sale at 10am on 17th September for £240pp.  This event is open to adults 18 and over only, and includes welcome drinks, canapés, and a Christmas feast in the original Great Hall set, which will be decorated specially:
"In addition to the Yule Ball decoration, The Great Hall will be lined with Christmas trees and the long dining tables will be dressed as they were for seasonal feasts at Hogwarts with prop versions of roast turkeys, hams studded with cherries and even Christmas puddings surrounded by real flames."
You can view the menu, which includes options for vegetarians and vegans, here.  After the feast, your ticket includes admission to the rest of the studio tour, including the Weasley kitchen, the Gryffindor common room and boys' dormitory, all decorated for the holidays.  You'll also get to enjoy desserts served on Platform 9 ¾ whilst you wait to climb aboard the Hogwarts Express.  There will be Butterbeer available in a cafe near the latest set to be added to the tour, Gringotts Wizarding Bank.  Finally, you will get to see the miniature model of Hogwarts Castle covered in snow and dance the rest of the evening away with music and a cash bar selling more drinks.