Bloomsbury Celebrates 'Goblet of Fire' Illustrated Edition Release With Jim Kay Tour!
Sep 23, 2019
Bloomsbury will celebrate the release of the highly-anticipated Harry Potter and the Goblet of Fire Illustrated Edition with an October tour featuring illustrator Jim Kay! The date of the first "An Evening with Jim Kay" event coincides with the release of the book on Oct. 8, 2019 and will be held at Central Library in St. Peter's Square, Manchester.
Kay will discuss the inspiration for his enchanting illustrations, which capture the magic of J.K. Rowling's wizarding world with beautiful color and detail. He will also "reveal some of the stories behind his work, the artists that have inspired him and how he goes about creating images of the key characters from the Harry Potter novels."

Who knows, fans may even be able to beg a comment or two on the next installment in the illustrated series, Harry Potter and the Order of the Phoenix, which Kay is currently hard at work depicting. Leaky previously reported that Kay noted it would contain "expressive" visuals and a "darker direction," suggesting it is "a bleak story to match our bleak times."
In addition to gaining insight into Kay's work on Rowling's epic series, attendees will also be able to have their copies signed after the event, though Bloomsbury requests that guests respect the time restrictions and accept his signature only, resisting the urge to request "illustrations or doodles." Chins and spirits up, though, Potter fans, those in attendance will receive a free dragon print by Jim Kay!
Peruse details for the full October tour, including event locations, dates and times, below, or read Bloomsbury's official announcement here.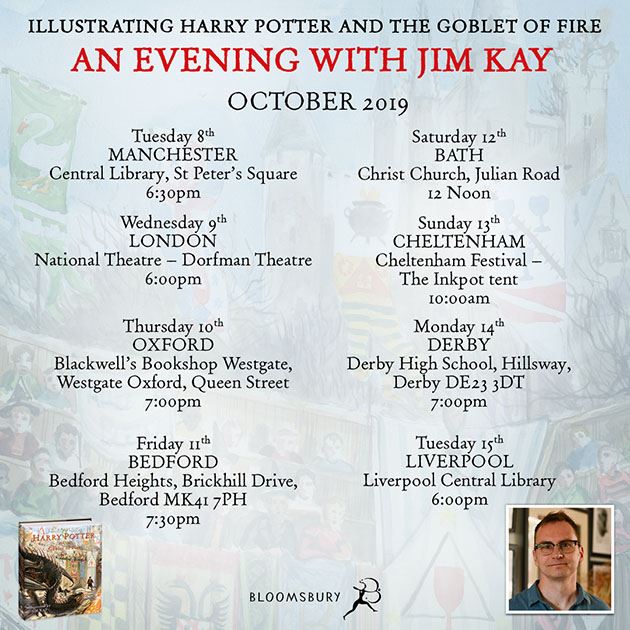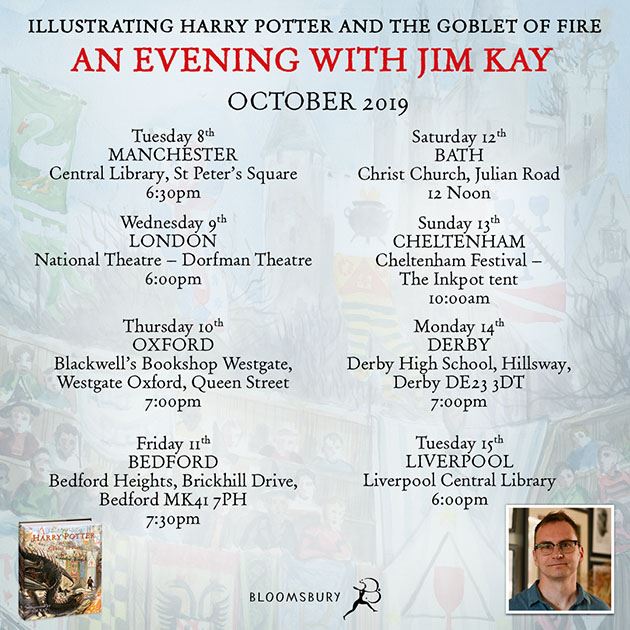 To purchase tickets to your event of choice, follow the appropriate link below:
Tuesday, Oct. 8 Manchester tickets
Wednesday, Oct. 9 London tickets
Thursday, Oct. 10 Oxford tickets
Friday, Oct. 11 Bedford tickets
Saturday, Oct. 12 Bath tickets
Sunday, Oct. 13 Cheltenham tickets
Monday, Oct. 14 Derby (tickets not yet available)
Tuesday, Oct. 15 Liverpool tickets
Don't miss out on the delightful opportunity to hear from the artist himself–and inscribe your copy with a little bit of extra magic!