Epic Universe: Universal Orlando's Fourth Theme Park Expected To Open 2023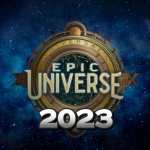 Oct 25, 2019
Comcast NBCUniversal reportedly confirmed in a third-quarter earnings call with Orlando Park Stop yesterday that their new theme park, Epic Universe, will open in 2023.
Universal officially announced the planned fourth park in August. At the time, Leaky reported the statement from Brian L. Roberts, Chairman and Chief Executive Officer of Comcast Corporation, on the expansion, which said:
"Our new park represents the single-largest investment Comcast NBCUniversal has made in its theme park business and in Florida overall. It reflects the tremendous excitement we have for the future of our theme park business and for our entire company's future in Florida."
We originally speculated the park might be branded "Fantastic Worlds" after Universal trademarked the name in July of 2018, but "Epic Universe" is as inclusive, if not more so, of their extensive creative property. While "Fantastic Worlds" would have placed a clear emphasis on the new Fantastic Beasts element of the Wizarding World, which we assume will be featured given the success of Universal's existing Harry Potter-themed parks, the broader moniker "Epic Universe" allows for more creative freedom and growth, especially since the Fantastic Beasts film series is not yet finished. With J.K. Rowling taking Potter fans out of England and Scotland to New York, Paris, Brazil, and, presumably, beyond, the story has truly acquired a magnitude on par with epic series such as Star Wars, which boast an expansive universe.
Audio from theme parks segment during this morning's earnings call, including the opening year for Epic Universe. More info: https://t.co/wuMVTyFnwX pic.twitter.com/HZAetp9PbV

— Alicia Stella (@AliciaStella) October 24, 2019
Leaky also previously discussed the possibility of the rumored park opening in 2023 and 2024, though those theories paced the construction with an early projected timeline of film releases, expecting the fifth installment to open in 2024, giving Universal access to Rowling's complete storyline and coinciding debuts. However, with the delay of Fantastic Beasts 3, now confirmed by Dan Fogler to begin filming in February 2020, they are clearly not on track to coordinate a grand opening with the completion of the film franchise.
However, there is more than enough backstory available in Fantastic Beasts and Where to Find Them and Fantastic Beasts: The Crimes of Grindelwald to inspire a wizarding land in the new park–and, though it's not confirmed, it looks like that's what we're going to get!
As previously reported by Leaky, a concept rendering of the initial map, which isn't labelled, appears to show a new hotel, roller coasters, light shows and five or six new lands. A zoomed-in screen shot of the art reveals a land centered around a city street, which is flanked on both sides by a stretch of buildings.
Leaky suggested these could be New York city streets, including specific locales such as Jacob's apartment building, the bank and, of course, MACUSA. It is equally feasible this could be the streets of Paris, including the French Diagon Alley, the French Ministry of Magic and the Circus Arcanus. This would be an easy link to Universal's Diagon Alley and provide parallel experiences for Potter fans in alternate settings and time periods within wizarding history.
As to how they would further "connect" the parks and worlds, we suspect they may do this through the recent addition of Globus Mundi, the wizarding travel agency. As guests are able to travel between Diagon Alley and Hogsmeade via the Hogwarts Express, perhaps there will be a "wizarding passport" or portkey that allows travel to other wizarding locales–or even times!–if not through a physical portal then through some other "magical" means.
Hopefully, we'll know more as construction gets underway, although Universal has a history of keeping these details under wraps, as with the development of the Hagrid's Magical Creatures Motorbike Adventure attraction. Even without confirmation, however, there would be ample room for future speculation–and possibly very soon!
Orlando Park Stop observed:
"The land where the new theme park will sit has been in development for years now, while Comcast has been purchasing additional satellite parcels of land around the surrounding areas. While the land for the new park is still only dirt at this stage, most of the land grading necessary for development has been completed. This hopefully means that we could see actual construction beginning by early next year."
We will keep fans updated on all developments and announcements, as well as with continued theorizing about the makeup of Epic Universe. If Universal breaks ground next year, there will be plenty to discuss over the coming months–and 2023 will be here before we know it!
Read the full report from Orlando Park Stop here.