Review: "Christmas at Hogwarts" from Insight Editions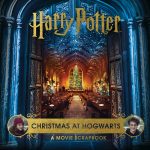 Sep 30, 2020
Which Christmas sets and props from the Harry Potter films would you like to see in more detail? All of them? Yeah, me too! And let's not forget special effects, like magic snow falling in the Great Hall and the ghost carollers gliding through the walls.
So much care, creativity, and design acumen went into creating every detail for the holiday scenes, but they flash by in a blink-and-you'll-miss-it second during the films. With the camera usually focused on the characters and the action, we don't often get an up-close view of the decorations, presents, food, and other holiday props. Pausing the movie and squinting at the screen may give you a better look at the Yule Ball decorations in the Great Hall, but now, with the release of Christmas at Hogwarts: Magical Movie Moments, you can curl up on the sofa with a hot chocolate and read about the silver-and-ice-themed set decorations. Did you notice that the drinks bottles, which were cooling around the ice sculpture modelled on the Royal Pavillion in Brighton, were pastel versions of the house colours? I didn't pick up on that fun detail, despite seeing the film zillions of times, because it flashed by amidst a dazzling array of sparkling icicles and silver glitter raining from the ceiling.
In addition to Christmas at Hogwarts, we also get a closer look at Christmas at The Burrow, in Hogsmeade, at the Slug Club Christmas party, in Grimmauld Place, and even the scene in Godric's Hollow.
Christmas at Hogwarts: Magical Movie Moments will be released on 6 October, in plenty of time for your holiday gift shopping. (If this gift happens to be for yourself, that's just fine!) You can pre-order it now.