Stephen Fry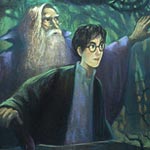 Sep 30, 2003
Uncategorized
UK's Sunday Times has a Karen Robinson interview with Stephen Fry from this past Sunday, which can be read by registered users at their site (if the link doesn't take you there directly, use the paper's search engine). For those who can't access the article, Cressida has kindly provided us with some excerpts – thanks, Cressida!
Stephen, you've read all the Harry Potter Books. What surprised you most about this latest one?
Well, the length is quite astonishing….and to think some publishers turned down the first one because they thought it was too long. I was also surprised at how much misery JK Rowling was prepared to heap on Harry's head. She's unremitting in how unfairly life treats him. People think he's a lying snivelling squit – but he's saved the world five times. It's not fair!
How do you decide how each character will speak?
When I did the first Harry book, Jo Rowling said I'd done the voices as she imagined them. She doesn't say what accents they have, but you get a sense of it from the rhythm and word order of their speech. In Phoenix, I instantly thought Tonks should sound as if she came from Blackburn or Rochdale in Lancashire, slightly Jane Horrocks. My producer Celia de Wolff, had the same thought, even though nowhere does it say that.
Have you changed Harry's voice at all, as he's grown older?
Actually I've given more of an adolescent croak to Ron in particular, adolescence has hit him harder. It's important to make Harry's voice 'vanilla'. The others can be more startling flavours, pineapple or raspberry ripple, but as so much of the story is told through Harry, his voice is closest to mine – but youthified.
Which character do you find hardest to give a voice to?
Voldemort. JK Rowling is specific that it's a high, thin, cold voice and he has to sound more terrifying than Severus Snape, but I'm worried about him sounding like a 1970's Dr Who villain. With Snape, on the other, there's been an ambiguity from the beginning. Maybe underneath, he's rather decent and really likes Harry.