"Hillary Potter and the Goofy Book Cover"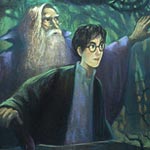 Dec 30, 2003
Uncategorized
Fresh from the New York Post: Hillary Clinton gave her aides a very special copy of her book, Living History, this holiday season. The caption reads:
Leaping wizards, is that really Hillary Clinton? The [New York] state's junior senator gave her staffers a magical gift this year: copies of her book, "Living History," with a cover spoofing J.K. Rowling's best-selling "Harry Potter" series. Clinton sports a Potter-like lightning bolt scar on her forehead, round glasses and a magic wand.
Just goes to show – if you can't beat him, spoof him!