2005 In Review: A Leaky Wrapup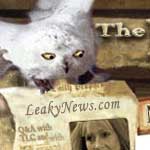 Dec 31, 2005
Uncategorized
All right, everyone. It's gonna be a long one, but we put so much work into this that we're putting it all on the front page anyway. It's been an extraordinary year, and so this last post of 2005 will have an extraordinary wrapup. I personally cannot believe how much has happened in 12 short months. We can't wait for the next 12. Thanks to Sue for pulling the very many links that are in this article. Enjoy, guys, and take some time to relive a wonderful 2005.
~*~
January:
We started the year in a way with which most Harry Potter fans are quite familiar: J.K. Rowling had ended 2004 by announcing that book six would be released on July 16, 2005, so on the short side of two weeks following that announcement we have our first book six scam, where an online company tried to sell the "book" for about $10; Leaky and other fan sites gathered up arms to warn and protect fans over that weekend, and by that Monday Jo's people got the site dismantled. By Jan. 14 we had a preview of the film Harry Potter and the Goblet of Fire from Entertainment Weekly, with producer David Heyman comparing the on-set hormones to the popular teen drama, The O.C. Even while press for Goblet gears up, the Prisoner of Azkaban awards season is not over, as the film is nominated for four BAFTA awards. We post our Goblet set report preview on Jan. 21, and the next day get a first look at Viktor Krum, the mermaids and more (and later pull them when WB asks nicely). On Jan. 23 the first hint about Half-Blood Prince's U.S.-edition page-length appears on Amazon.com; Scholastic confirms it the next day. Jan. 24: J.K. Rowling's third child, little cherub MacKenzie, is born. On Jan. 25, Julie Walters confirms that she is not going to appear in Goblet of Fire, and hence that Molly Weasley has been cut; the same day, Prisoner of Azkaban is nominated for two Academy Awards – Best Visual Effects, and Best Score for John Williams. Jan. 28 was a huge day for Leaky, as we launched our first-ever forum, Leaky Lounge, which in less than a year has gathered nearly 30,000 members and more than 600,000 posts; a few days later, Jo Rowling updates her site regarding the Half-Blood Prince e-book scam.
February:
The second month sees the first time the crazy Elizabeth-Hurley-as-Bellatrix rumor reaches the press, and the first time WB shoots it down. It won't be the last. On Feb. 12, Prisoner of Azkaban wins Orange Film of the Year from the BAFTAs; on the same day we hear the first word on who will play the Weird Sisters in Goblet of Fire. On Feb. 22, Emma Watson wins AOL MovieFone's Best Actress Award for her portrayal of Hermione Granger, while on Feb. 26 the first pics of the Hungarian Horntail from Goble of Fire surface and David Heyman confirms that there are no house-elves in Goblet of Fire.
March:
On March 8, the Half-Blood Prince covers are revealed (though first on NBC) veeery early in the a.m. with high-res photos. On March 16 fans to help create Potter merchandise for the first time, while Jason Isaacs says Ralph Fiennes's performance in Goblet of Fire is a "tour de force." On March 22, rumors about Order of the Phoenix filming in the Czech Republic due to high costs of filming in the UK begin to surface. On March 26, a French magazine gives us our first look at Fleur, Barty Sr., Dumbledore and Rita from movie four; the high-res versions come from WB a few days later. The back of the Half-Blood Prince cover is revealed on a Mary-Grand Pre standee.
April:
Pandemonium on Leaky on April 1, as Peeves takes over the site and the forum; on April 5, we open the Cauldron Shop; shortly thereafter, photos from the video game surface. At the end of the month, we get the first video footage of Goblet of Fire on ABC.
May:
On May 3, USA Today publishes a new photo of Gred and Forge, while Dan Radcliffe confirms that he will return for Order of the Phoenix. May 4 is a busy day: A new behind the scenes video with the trio gets posted, as well as high-resolution photos of Krum, Fleur, Cedric and more, and a Leaky preview of the first Goblet poster art. On May 7, the Goblet of Fire Web site opens, news of the new trailer for Goblet breaks here, and clips from the ABC Goblet of Fire preview air. On May 9, we get even more Goblet footage, and on the 11th, the Half-Blood Prince press returns with the deluxe edition of the cover as well as high-resolution art. Then the fans feel their power, as the new version of the Goblet of Fire poster is revealed – with the comma so many of you said it needed. The high-resolution version comes out on May 9.
May 13 is one of the very best days in Leaky's history, as Jo Rowling awards us the Fan Site Award (which by circumstance has been the only one to be awarded in 2005) and reveals to the world that Melissa and Emerson of MuggleNet would be traveling to Scotland for the book six release to attend the special events and interview her at her home on July 16, 2005. Emerson and Melissa had spent the previous 10 days in nerve-wracking silence but are finally able to explain what happened when Jo Rowling called them at home to give them the news, and what it was like trying to hide it from the world until that day.
May 17, the fandom announces PotterParties.com, under such strain of our server (thanks, Jo :P) that the big reveal has to wait several days until our second server, Storge, could be installed. Several fans go insane wondering what's going on. One webmistress loses her mind trying to fix it. On May 24 news breaks that workers at a Half-Blood Prince printing factory in the UK are betting on who will die in book six – and as it turns out, had the right pick. On May 25, the Cauldron Shop reveals the result of your input with Solemnly Swear Marauder shirts that sell out in less than one day.
June:
Miranda Richardson speaks about Rita and Dame Edna on June 1. On June 3 the hype for Potter literally comes to blows as idiots try and sell stolen copies of Half-Blood Prince to a reporter from The Sun; it ends in gunplay and shots fired. Bloomsbury makes a statement, while the details and a court order emerge following the incident. Meanwhile, WB sends a high-resolution pic of the Quidditch World Cup campsite. On June 5, Barbara Marcus of Scholastic says the books are printed and ready to go; the next day TLC and MuggleNet launch the "Ask Jo a Question" contest which results in several tens of thousands of queries submitted from all over the world, their posers vying for three top spots on each of our lists to ask Jo on July 16. Book hype continues as on June 7 we post a page to keep track of all the contests going on worldwide to choose "cub reporters" who will attend the Edinburgh release events and interview Jo Rowling on July 17. On June 9 Jo gets a court injunction for the early Half-Blood Prince leaks. On June 10 Bloomsbury releases the back cover of the UK children's edition of the books, revealing the infamous ring and Horcrux pedestal. Dan Radcliffe will star in December Boys, we discover on June 15; on the same day the news breaks that Half-Blood Prince has passed the half-million mark in pre-orders from Amazon.com. Meanwhile, on June 16 TLC attends a 30-days-till-HBP event at Scholastic, and brings back interviews and photos with Arthur Levine and Barbara Marcus. Mike Newell discusses the axing of the Dursleys at Comic-Con on June 18. On June 20, Barnes & Noble announces a special video broadcast of the Edinburgh events. On June 23, Jim Dale discusses reading the book, and on June 24, the retail price war on copies of Half-Blood Prince starts to make papers. We get our first look at Mad-Eye on June 26; on June 27 4 million pounds of Harry Potter are delivered to a Barnes & Noble warehouse, and on June 30, books start to arrive at Borders.
July:
Scholastic starts the month by announcing winners of the essay contest to win a trip to England and a free book, then announces that it has dispatched 600 trucks full of the book. On July 5, Bloomsbury announces details about the castle event, and TLC announces it will be leading Barnes & Noble reading groups, starting July 11. On July 8, we reveal the back of HBP and the Ask Jo poll results come in. We post the NY Times special Harry crossword puzzle on July 9; our partners at The Harry Potter Lexicon post all the openings of Jo Rowling's mysterious site door; Bloomsbury posts video of Jo signing the first HBP; Barnes & Noble announces that 1 million HBP preorders have been taken. On July 10, Oscar Watch posts the first Goblet screening report, while threads about it continue on the forum. The first signed HBP book arrives in the US on July 11, while Amazon packs up and sends out its books; on July 12, Scholastic posts video of Jo signing HBP. On July 13, TLC reveals its HBP reading groups; books sell out early in India; Scholastic releases the entire deluxe HBP cover, and Bloomsbury releases the back cover and text.
Between the night of July 15 and 16, as Half-Blood Prince prepares to make its debut to the world, so many peole visit Leaky its server basically implodes. Reports come in from Edinburgh on July 16, as Jo Rowling gives a midnight reading to celebrate the book's release; the first review of the book comes from the New York Times. In the first day, more than 6.9 million copies are sold.
At 2 p.m. on July 16, Melissa and Emerson travel from their Scotland hotel to Jo Rowling's house, where they hold a two-hour-plus interview with the author that exceeded their wildest expectations; we check in on July 17 and promise the results soon. Meanwhile Time Magazine's interview with Rowling hits the Web, and on July 18. On July 20, Melissa appeared on CNN this morning to talk about the Interview; the Goblet of Fire Web site goes live on July 21, the same day that JKRowling.com becomes handicap-accessible.
THE INTERVIEW between TLC, MuggleNet and Jo Rowling, is published in parts on July 19 (Part One), 21 (Part Two) and 23 (Part Three).
On July 22, Entertainment Weekly publishes a huge feature on Potter, along with a picture of Riddle's gravestone that fans immediately spot is erroneous. On July 26, Arthur Levine updates his site FAQ with HBP "errors," some of which are not actually errors, and we post the transcript of the interview from on-set with the TriWizard champions. Cub reporter stories come in from Edinburgh on July 18, and on July 31, Terry Pratchett writes to the Times with some words about Potter that don't go down well with fans. We wish Jo and Harry a very Happy Birthday, and end a month of many gifts.
August:
Our first look at Cho Chang comes in high-res forum on August 1, and more and more pics start to surface – from Disney, and more. Pratchett clears up his remarks about Rowling on Aug 3; the next day Jo is nominated for the Quill Awards. On Aug. 8 TV Guide is the first to report that Goblet will be PG13, while Fiennes commits to Order of the Phoenix. On Aug. 10, Jo donates an original Sorcerer's Stone sketch for an exhibit; we also see the Danish cover of Half-Blood Prince. On Aug. 18, an audio clip of Stephen Fry reading Half-Blood Prince goes live, while the next day composer Patrick Doyle says that Goblet was the biggest thing with which he has ever been involved. On Aug. 22 the high-resolution Goblet international trailer hits the Web, and the first signed HBP is awarded to a library in South Carolina.
On August 22, PotterCast makes its debut with interviews with Stuart Craig and Bonnie Wright, the show marking the most significant addition to Leaky since the forum. The next day we get the French cover for Half-Blood Prince, the high-resolution trailer hits the UK site on Aug 24, while Fiennes talks background of Voldemort on Aug. 29.
September:
The Dutch cover of HBP is released. On Sept. 5, HP appears on CNN's top moments of the past 25 years; on Sept. 6, Potter fans come together to raise money for Katrina victims; a portrait of Jo is also unveiled at a UK museum. On Sept. 7, the Harry Potter books finally become downloadable at iTunes, and very shortly thereafter become the top of the store's downloads. PotterCast and MuggleCast appear in Steve Jobs's keynote presentation, which we all find too cool for school. USA Today posts a ton of Goblet pics on Sept. 13, while on Sept. 14 PotterCast is geekily thrilled to appear on iTunes's New and Notable. A new full-length trailer appears on AOL on Sept. 15, and the soundtrack release date is unveiled on Sept. 20. On Sept. 21 Scholastic says 11 million copies of HBP have been sold; on Sept. 22 the Swedish cover is released, and on Sept. 26 the German one is unveiled. The same day, the power of the fans is shown again, as the Riddle gravestone turns up corrected! Arthur Levine talks about his thoughts on the death in book six, book seven and more, while calendar scans show up showing Dan Radcliffe in the tub (and the fandom girls squeal in unison)… On Sept. 30, the Canadian band "Wyrd" sisters launches a law suit over the use of "their" name; casting begins for Luna Lovegood, while the first (now confirmed) report of Staunton playing Umbridge comes from the Daily Mail.
October:
Clips of Goblet appear with more frequency; the bouncing ferret clip shows up on Oct. 2. Meanwhile on Oct 3, HBP is released in France and Taiwan. Leaky's first widget comes out on Oct. 6, while the official actor info comes to the official Goblet site. Rumors surface about the 157 minute Goblet run time, as well as early ticket sales; Jo wins two Quill Awards including Book of the Year on Oct. 12, and PotterCast broadcasts live from Salem on Oct. 8. Apple releases huuuuuuge Goblet trailers on Oct. 13, while movie tickets are reported on sale on Oct. 14. HBP is released in China and Portugal on Oct. 15, a huge amount of Goblet photos come in on the 16th. We publish an interview with Tolga Safer of Goblet on Oct 16; on Oct. 19 a full Weird Sisters song is posted on a Radiohead fan site. HarryPotter.com is Goblet-themed by Oct. 20, while the results of the Goblet press conference are posted, with interviews with the main trio of actors, the TriWizard champions, the director and producer (the audio download and transcript are posted later). The Leaky News Widget comes out, while we discover that Order of the Phoenix will definitely be filmed in the UK. Kloves is set to return for book six, hordes of new Goblet pics are unveiled, including the first Lucius one (Sue explodes). On Oct. 24 AOL releases the entire soundtrack; two days later WB unveils a soundtrack Web site. Leaky previews the WB mini-Dark Mark site, and on Oct 27, IESB posts 13 brand-new clips from Goblet, followed by interview clips.
On Oct. 28, Muggles steal Arthur Weasley's car, yet more interviews are posted on IESB on Oct. 30, and on Halloween, John goes missing, and Leaky is selected as TriWizard captain in the online competition.
November:
A great Quidditch World Cup clip comes out on Nov. 1, while USA Today posts some exclusive posters on Nov. 4. The Wyrd Sisters' lawsuit is dismissed. We get posters of the second task on Nov. 6, while fans are camping out overnight for the World Premiere. Streaming footage reaches fans from the premiere (Leaky's video comes out later), and the first roundup of stories appears. On Nov. 7 Heyman confirms that Grawp will be in Order, gives good news on Luna casting and the Black tapestry for movie five, while Leaky posts its first batch of pics from the London premiere. HBO airs a special first-look at Goblet, while HBP is released in Sweden on Nov. 9.
On Nov. 12, Leaky and MuggleNet team up in New York City for premiere coverage and a live podcast at Barnes & Noble in Union Square, where we reveal that Miranda Richardson is not coming back for Order of the Phoenix. Melissa's mom and Jamie Waylett get several HP actors to call in to the show; the reports turn up here and images here, as well as red carpet pics. On Nov. 15, Gambon reveals in an Empire Online interview that he hasn't read the books; TLC posts its pics of the Goblet of Fire premiere party (New York one STILL on the way!).
On Nov. 18, Goblet hits theaters and becomes the most successful film of the franchise to date, grossing $102.7 million in its first weekend; focus goes back to the books on Nov. 19 when the Dutch translation of HBP rekindles speculation that RAB is Regulus Black. Jamie and Matt Lewis also pull a sneak attack on fans on the day of release by showing up at an IMAX showing in NYC. The first official Voldemort pic and video clip shows up from WB on Nov 23; the same day we get news that Goblet has been screened for astronauts at their space station. On Nov. 25 HBP is named one of New York Times's 100 Notable Books of the Year. The Finnish cover of HBP is released on Nov. 28, while pics from Japan, NY and London show up in the Leaky Galleries.
December:
On Dec 1, we discover that the Japanese HBP will be released on May 17, while a misguided reporter in Norway says JKR is a myth. On Dec. 8, Jim Dale is nominated for a Grammy for his HBP recording, while Goblet is nominated for two Satellite Awards and Julie Walters is confirmed for Order of the Phoenix. On Dec. 9 we discovered the HBP paperback would come out on June 23, while Goblet gets three Broadcast Film Critic Award nominations. Meanwhile, a new interview with Stephen Fry and Jo Rowling comes out on BBC Radio, our fourth Get A Clue drive opens, on Dec. 16, Brendan Gleeson is nominated for London Film Critics Award for his role as Mad-Eye, and we find out that there are at least two Goblet Oscar considerations: for Best Song (Do the Hippogriff) and Visual Effects. On Dec. 20 the robber that tried to sell HBP is back in court, admits to theft and trying to sell to The Sun, and also trying to blackmail Bloomsbury while in jail. Meanwhile, Goblet is crowned king of UK box office, Leaky announces its third server is about to be installed, and in the US only Goblet passes Prisoner and Chamber in box office total.
2005 ends as 2004 did: with a note from Jo about an upcoming book. This time, there's no title, or date, just the promise that 2006 will be the most momentous of all Harry years thus far, as hard as that is to believe when we've had the kind of year we've just had. 2006 will be the year that J.K. Rowling writes the last Harry Potter.
Happy New Year, everyone. We are thrilled and honored to bring you into that year, into the last book, and beyond.