John's Top Ten Leaky/Harry Potter Moments of 2005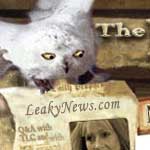 Dec 31, 2005
Uncategorized
10. First Goblet "shot by shot"; Kind of reminded me of the last time we stayed up until 7 a.m. working on the POA shot by shot… Of course this was in the days before the PotterCast all-nighters.
9. "Where's John?" Oh, the fun you all had the day I went 'missing'. The funniest part about that to me was how I was at work all day and wasn't even able to sign on until that night, when I was able to read about the fun all the "John" impersonators/mods were having hiding me places. (Thanks again Kimmy for coming to my rescue!)
8. The date/title of HBP. That was a way exciting day. I remember how it lit a fire under us as we knew then how much time we'd have to finish PotterParties. We still scrambled to get it finished in the last few weeks, but thats neither here nor there..
7. Debuting PotterParties. That was fun on many levels; being able to bring the world the cool new tool that is "PotterParties," and also all the 'fun' we had trying to get it to work. That will probably be the last time I get to play with the random question marks though…
6. Leaky Lounge opens for business! That was back in January; it's been a lot of fun interacting with all the readers and sharing theories and stories and meeting new people.
5. Reading the Leaky/MN Jo Interview, and all the excitement surrounding it. Chatting with Melis during those days up to and following the experience, it felt as if I was there myself – couldn't have been any more excited or proud for her.
4. Midnight release of HBP. Went to a low-key Potter Party at a Borders Books, let some girl paint a 'scar' on my forhead, and managed to have my book home with me and my siblings by 12:30 to begin the all night read-a-thon… tired out at Very Frosty Christmas, but finished after a four-hour nap.
3. PotterCast! At first, I honestly didn't have much interest. However, after sitting up with Melis helping her record the first episode (one of the funniest private Leaky moments of the year) I caught the podcast bug. I'd be amiss not to mention how great it's been to go from thinking of those guys at MuggleNet as MuggleNerds, to good friends – all thanks to the podcasting. It has been a blast bring the show to you all every week since then, and I hope each new show can be as good if not better then the last! [Thats your cue for all the non-listeners to make one of your new year's resolutions to check it out!]
2. Winning Jo's Fan Site Award was really a defining moment for Leaky this year. Up until then, I admit wondering when or if that day would ever come, but I've realized since how special winning when we did really is. It was the year anniversary of Jo's new website. It was right around the time of all the big HBP annoucements, and as of today we are the only site to be awarded this honor in all of 2005. I'll be forever flattered for the honor: the honor of Jo's recognition, and the honor of working with such a fantastic group of people who I all concider to be great friends.
1. And finally, though many of you purists will huff at my for saying so, my top moment (moments really) was the whole New York Premiere exerience. I really could write a whole other top 10 just for that weekend (but I don't want to take advantage of the rare occasion I get to add things into a post rather than around it). From getting there and meeting so many of the people I talk to so often for the first time face to face (yes, including the MuggleNerds), going out with everybody and exploring the city, being on the red carpet – inches away from so many of the people whose likenesses have spent the past couple years up on my Photoshop at one point or another, SEEING THE MOVIE with all of them at the premiere (and daydreaming of maybe one day being invited to a future Potter premiere, as a crew member), of COURSE the Live Leaky Mug podcast, and the bizarre/lucky experience of going to the Cast/Crew after party: getting a picture and a autograph with Radcliffe, and BRIEFLY sitting on a lounge next to Emma as she signed for me as well. I really can't remember ever having as much fun in recent years then I did that weekend – some times it seems more like a dream then something that really happened. If we can recreate at least half of the fun in the upcoming Vegas podcast it will easily be a highlight of 2006.
Happy New Year everybody! Thanks of for the clicks, the laughs, the feedback, and your loyal listener/viewership!