Sue's Top Ten Leaky/Harry Potter Moments of 2005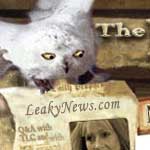 Dec 31, 2005
Uncategorized
2005 was a difficult year for many. We saw unparalleled global disasters; a suffering, sadness, and life altering events with such scope and scale that our world was forever changed. There were political, ecconomical, social ,and a host of other problems that made this year a hard one to get through. As sobering and important as those things were, there were moments for us here in the Harry Potter world that brought a welcome respite and great delight to all of us. Here are my top ten moments of my time on Leaky which I will carry with me from this year.
10) April 1, 2005: Peevsie Peevsie what have you done? Why it's just old Leaky having some fun! Got your Conk! April Fools Fever Sweeps Fandom; fun had by Potterheads everywhere.
9) May 18th. Witches Brew, Cauldron Cakes, and Potter parties all round the world. The ultimate where, when, why, and how in the world all-in-one-stop website opens to help you plan your magical event as Leaky launches Potterparties.com!
8) January 28th, 2005: Leaky Lounge debuts: Let's Talk Potter! The conversation is wonderful as our first forum opens its doors for business. We've been working and growing steadily ever since with some of the best and brightest members and staff out there. Leaky Readers Rule!
7) JKRowling.com. While there isn't one particular date in mind, the fact that the author continually gives us updates, teasing hints and information is a wonderful gift to the Potter fandom. Last year at this time she gave us the gift of a new title and the promise of a new book; this holiday we learned that 2006 would be the year she writes the last book in a series that has brought us all together. We don't know what surprises she has in store for us in the coming year ahead, but what we do know is that we are lucky to have such a wonderful insight in this beloved magical world. Thank you Jo!
6)August 22nd. Podcasts Podcasts Podcasts! Live from the heart of the Leaky Cauldron… our very own broadcast (or as only diehard fans like us would have it)… POTTERCAST. Download, plug in, and listen as we bring you all the Potter talk that is fit to publish, plus lots of fun too.
5) November 18th: Harry Potter and the Goblet of Fire released into theaters. Despite all of the clips, photos and interviews we had in advance, nothing compared to seeing this film for the first time. I thrilled over the wonderful effects, was on the edge of my seat watching the tasks, lamented over a few things, and my heart absolutely broke over the end with Cedric. The movie was well received by audiences again and again, and continues to shatter records world wide.
4) 2) NY Live Podcast with MuggleNet / Attending GoF Premiere In NYC / Attending Cast Party / Meeting Jason Isaacs: Once in a while even a dorky geeky thing like me has something unexpected, wonderful, and absolutely magical happen; this was it. The podcast itself was awesome. 800 people show up. To see us. Lots of talk, laughter,and hugs were shared. It was a moment we will never forget. ever. We heart you all. 'Nuff said.
3) May 13th: Our Lucky Day. There are times when you are left speechless as your heart is simply too full of joy to speak. This was one of those moments. When Jo presented us with her fansite award, our hearts nearly burst with pride and happiness. Jo you have our many thanks, gratitude, and much love.
2) TLC interviews Jo Rowling: One-on-one, no questions barred. It was a direct and honest conversation with the author we love, including some tough questions from fans in the know. We got straight answers, huge amounts of information, and a moment the fandom will not forget.
1) July 16th, 2005: Open war comes to the magical world. There are new faces, old enemies, a big battle, a betrayal, a kiss, and in one lightning struck moment… things forever changed. A new Prince was crowned as JKRowling released her sixth novel in the Harry Potter series, and wows fans world wide. As much as we loved this book Jo, it is with both dread and excitement we look forward to what you have in store for us next. Judging by what we saw in Book 6, it will be very exciting indeed!