Chris Rankin Talks About OotP, Percy and Wuthering Heights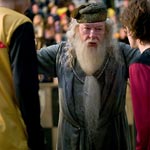 Apr 27, 2006
Uncategorized
ICSurrey Online has a new interview with Chris Rankin (Percy Weasley), who is now appearing as Edgar Linton in a production of Wuthering Heights currently touring the U.K. In the interview, the actor discusses being cast as the (Big) Head Boy, Percy's hunger for power and the family atmosphere on the sets of the Harry Potter films. Quotage:
"Over the course of the films, he's gone from being a stuck-up, poncey prefect to quite a nasty piece of work," says Rankin.
"My character didn't appear in the last film but, when he makes his return in the next one, he starts to become really obnoxious.

"By that stage, of course, he's working for the Ministry of Magic and he's become so power-hungry that he'll step on anyone to get where he wants.

"And let's just say that the Minister for Magic, Mr Crouch [sic], has his shoes well and truly kissed!"
You can hear Chris talking in even more depth about OotP (and plenty of other things!) from his guest stints on Pottercast 34 and Pottercast 35.