PotterCast 65: Electronic Arts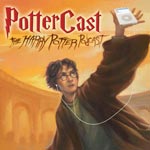 Nov 27, 2006
Uncategorized
Our 65th Harry Potter podcast, containing the first part of our interview with the makers of the HP video game, is now live. To listen, just hit the "Play" button on the right side of the page (—>), or use iTunes, or direct download. In this show:
-Extendable Ears is back, this time with part one of an in-depth interview with the makers of the Harry Potter video games. Our own Donna reported directly from the London video game studios with Matt and Justin from the team, incorporating all the questions and feedback that Leaky readers have been submitting via our forum and PotterCast for months. Part two will be out next week!
-Canon Conundrums discusses snakes in the Harry Potter series, and what Jo said about their possible relevance in the last volume. Is Nagini a Horcrux, really?
-And more!
Running Time: 1:22:51
Edited by Stede Bonnett
Direct download (38MB).
Direct download low-bandwidth (9.5MB).
Remember you don't need an iPod to listen; just a computer and an internet connection, which you already have! You can listen most easily on iTunes, which you can download and install here, by clicking here to listen, or you can just use the streaming Flash player at PotterCast.com or just on the right side of this page. You can also direct download it here, and discussion of the PotterCast is right here. Enjoy!