Sketch Made for Prisoner of Azkaban Book Up for Auction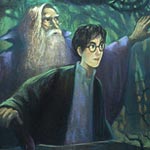 Nov 30, 2006
Uncategorized
A sketch originally made for the cover of Harry Potter and the Prisoner of Azkaban is up for auction in the UK this weekend. This is London reports :
Illustrator Cliff Wright, who also designed the cover for Harry Potter And The Chamber of Secrets, the previous book in the series, is selling the sketch for £8,500 at the inaugural Great Art Fair, at Alexandra Palace until Sunday.

Art experts estimate the buyer will be able to sell the 1999 sketch on for a five-figure sum.

The sketch shows Harry and his friend Hermione Granger on a hippogriff, a cross between a horse, lion and eagle. Mr Wright said: "In some ways I prefer the sketch to what ended up on the cover. It's more dynamic: in the final version, the hippogriff is not moving quite so fast. JK Rowling herself faxed over an image of what she thought the hippogriff should look like."
You can see a larger version of the sketch, here. In addition, you can view all the UK covers for PoA, as well as covers of all the books from countries around the world, in our galleries.