'Ears to Fred and George Contest Opens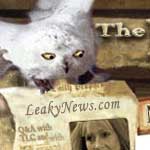 Feb 28, 2008
Uncategorized
Our Contest Crew has a new call for submissions for our latest contest to bring you today. Soon the April 1st celebration of the birth of Fred and George Weasley will be up on us, and we are asking you to assist our dear George in coming up with a new, and hopefully better, ear joke for this most hole-y occasion. Those who have read "Harry Potter and the Deathly Hallows" will remember George's injury in Chapter 5 and his subsequent joke about it in hopes to calm his worried family. In order to enter the 'Ears to Fred and George Contest, please submit no more than three original jokes that are fifty words or less. As always, a strict PG-13 rating is required for all submissions and anyone over the age of 13 who is not part of the judging process may enter.
Submissions must be emailed to [email protected] with the subject line reading "Ear Jokes" by March 25, 2008 at 11:59pm EST. Complete rules and submission information can be found on the Contest Page as well as the Contest section of our own Leaky Lounge forums.
Good luck to all who enter!