Come Celebrate the Chamber of Chat's Three Year Anniversary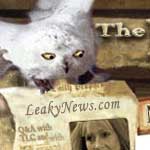 Jun 28, 2008
Uncategorized
The Chamber of Chat, Leaky's premiere interactive 3D chat world, is celebrating its third anniversary this Saturday. To mark this event, our Chamber of Chat staff has festivities of fun and good cheer on the schedule to celebrate this occasion. The event begins this Saturday at 7 am EST with opening ceremonies followed by a day full of games including: Harry Potter Trivia and Pictionary, along with discussion and other contests. Throughout the day prizes will be rewarded as fun is had all around. A full rundown of the day's events can be found here in the Chamber of Chat section of our Leaky Lounge forums.
Over the past three years, the Chamber of Chat has grown and expanded to now encompass a number of 3D rooms where characters of your creation can move around and interact with your fellow virtual wizards. In the chat, you can walk through Hogwarts Hallways practicing spells, explore the Dark Forest, and even stop in for a chat at everyone's favorite pub: The Leaky Cauldron! Be sure to practice those wand moves and join in with the festivities with your fellow Chamber of Chat members for this event. Those not yet members of the chat can join for free via this link and start exploring today!
Many thanks and congratulations go out to Troy, Carl, Jorge, Joyce, and our entire team of Administrators, Moderators, and Contributors for their work on the Chamber of Chat.
Enjoy!