Second Part of Leaky's Riddle Contest to Begin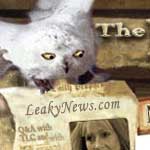 Jun 30, 2008
Uncategorized
The second part of our previously announced Riddle Contest is now set to being on Tuesday, July 1st, with the posting of the first of ten riddles to be solved for this contest. Now that all submissions sent during the first leg of this contest have been collected, riddles will be posted in the Leaky Lounge's Contest Corner every Tuesday and Friday during July for you to solve. Once the riddles have been put online, you have until the next riddle is posted to email your response with "Riddle Answer" in the subject line to [email protected]. A complete schedule of Riddle postings can be found here.
As we stated previously, those who answers the most riddles correctly will be entered into a drawing along with those who submitted riddles chosen in the first part of this contest to win one of three wands from Wizard Wood Wands. The complete rules and guidelines can be found right here on the Contest Page.
Good luck to all who enter!