PotterCast 167: The Truth About the Veil… and Dobby's Eyes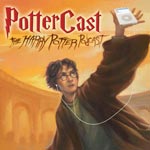 Sep 30, 2008
Uncategorized

It is back to the regular format of PotterCast, our Harry Potter podcast this week for our 167th episode of Harry Potter news, discussion, and more. Sue opens up this episode with the latest in Harry Potter news, including updates on a number of the Harry Potter cast, the city of Edinburgh honoring Jo Rowling, the 10 year anniversary of "Harry Potter and the Sorcerer's Stone" release, the cover to cover reading in New York City, and the announcement of the paperback version of "Harry Potter and the Deathly Hallows" release date. In addition to this, there is new canon from J. K. Rowling via "Harry, A History," along with more from our interview with David Heyman. On the other side of the news, Canon Conundrums comes back for a special segment to discuss new canon given by Harry Potter J. K. Rowling in "Harry, A History," about the veil. The PotterCasters talk about the great amount of detail J. K. Rowling gives us on this subject and how many of the characters respond to its magical properties. The show wraps up with a bit more about Melissa's book, Banned Books Week, and much more. To listen, just hit the "Play" button on the right side of the page (–>), or use iTunes, or direct download.
"The Truth About the Veil… and Dobby's Eyes"
– Catching up in Potter news.
– PotterCast is all ADD this week.
– "I'm a Harry Potter Star, Get Me Out of Here!"
– Recounting of Leaky's talks with Harry Potter film producer David Heyman.
– A Canon Conclumdrum answering the question of the mysterious Veil from the Book Five.
– Where's Waldo… BANNED!
RT: 66:09
Producer: John Noe
Additional Editing: Andrew Garner
LeakyCon 2009: A Harry Potter Conference in Boston
"Harry, A History" Website
Podcast Alley
Digg
Direct download (30 MB).
Direct download low-bandwidth (10 MB).
Remember you don't need an iPod to listen. Listen easily on iTunes, which you can download and install here, by clicking here to listen, or you can just use the streaming Flash player at PotterCast.com or just on the right side of this page. Discussion of the PotterCast is right here. Enjoy!