Chronicles of Narnia Book Club Opens in Leaky Lounge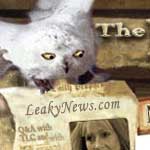 Jan 31, 2009
Uncategorized
The doors of our Non-Harry Potter Book Club have opened once again today for the reading of three novels from the The Chronicles of Narnia series by author C. S. Lewis. This time around, focus in Jo's Book Nook turns to The Voyage of the Dawn Treader, The Silver Chair, and The Last Battle books. Join in now to take part in discussions of the series, its heros, and an abundance of other topics related to the books. Open to all members, Jo's Book Nook is an all inclusive stop for all Lounge members who wish to take part in readings.
Be sure to also vote in this poll to help decide which book will be featured next month in our Non-Harry Potter Book Club.
Stop by Jo's Book Nook today and enjoy!