PotterCast 189: An Abysmal Failure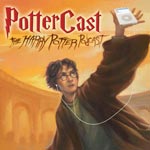 Mar 31, 2009
Episode 189 of PotterCast, our Harry Potter podcast,
is now online for your audible enjoyment. This episode starts off with the latest Harry Potter news from our own Sue, who gives us the latest on the Lego Harry Potter game, Matt Lewis on Twitter, Deathly Hallows filming in Wales, Toby Jones' clues on Dobby in DH, and reminds you to stay tuned for more DH casting news soon! Up next, five callers (and a special guest) match wits with our own John Noe in the latest installment of Are You Smarter Than John Noe? A new Canon Conundrums follows with the PotterCasters discussing what the series would be like if Neville, not Harry, was the boy who lived. Finally, the show wraps up with talk of Melissa's upcoming trip to Italy, Harry, a History now being out on audio book, what the Ravenclaw would be like in Movie Seven, Nerdfighters, and super cool LeakyCon 2009 announcements coming soon and much more. Register for LeakyCon here! To listen, just
hit the "Play" button on the right side
of the page (–>), or use iTunes, or direct download.
"An Abysmal Failure"
Filming in Wales, Dobby is dead, Neville is Ironman. That is all.
Is everyone smarter than John Noe?
Katie!
How would Harry and Neville been different if they lived with their parents?
Growing up in the Wizarding world, famous.
Melis in Italy, post and be her for three weeks.
Harry: A History, audio book. Out now!
LeakyCon announcements of fantastic-ness. Registered yet?
Go to youtube.com/pottercast for our daily vlogs.
Register for LeakyCon 2009 now!
RT: 75:11
Producer: John Noe
Editor: Stede Bonnett
Also, special thanks to our ever-vigilant UStream Mods for monitoring the live PotterCast recordings.
LeakyCon 2009: A Harry Potter Conference in Boston
"Harry, A History" Website
Jingle Spells 2
PotterCast Vlogs
Podcast Alley
Digg
Direct download low-bandwidth (9MB).
Remember you don't need an iPod to listen. Listen easily on iTunes, which you can download and install here, by clicking here to listen, or you can just use the streaming Flash player at PotterCast.com or just on the right side of this page. Discussion of the PotterCast is right here. Enjoy!