Bill Nighy as Rufus Scrimgeour for Harry Potter and the Deathly Hallows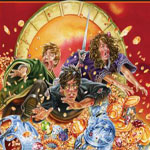 Jun 30, 2009
Several weeks ago, as first heard exclusively on PotterCast, this editor brought the news that actor Bill Nighy had been cast in Harry Potter and the Deathly Hallows. We are delighted to say that Bill Nighy, who will be taking on the part of Minister of Magic Rufus Scrimgeour for the film, has made new comments about his upcoming appearance in the final installment in the Harry Potter series. Mr. Nighy said: "I don't think I'm allowed to say it but I'm going to be in the next Harry Potter film,"
he tells us. "I won't say which character, but he's a goodie. I just
got the gig." If you don't mind us saying, it's about time, Bill. The
rangy actor has been dropping hints for aeons, once complaining that he
was "the only British actor who hasn't been in Harry Potter". But has he read the books? "Not yet, but I will!" he says. "It's rather like being in a Shakespeare that way, you know?" Mm.
Bill Nighy is a well regarded actor from the UK, known for his appearances in the Pirates of the Caribbean series, State of Play directed by David Yates, The Constant Gardener, the upcoming Wild Target with Rupert Grint, and a beloved comedic turn in Love, Actually.