PotterCast 207: The Fourth Hallow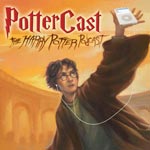 Oct 28, 2009

Our 207th episode of PotterCast, our Harry Potter podcast, is online for your audible enjoyment. This episode features the latest in Potter news, including distribution news for Rupert Grint's Cherrybomb film, Dan Radcliffe's next possible Broadway show, Ralph Finnees now filming as Lord Voldemort for Deathly Hallows film, J. K. Rowling's future project, the latest on actor Michael Gambon, and a most candid interview with actress Dame Maggie Smith. We also bring you information about a joint Harry Potter site charitable organization supporting BeMitt; more information can be found via www.bemitt.com/leaky. Next, Bit-by-Bit continues with the PotterCasters discussing "The Deathly Hallows" chapter of the Seventh Book. Listener email then sparks a discussion about the Hallows, and leads into a multi-layered discussion about wizarding genealogy. The show wraps up with news about our Jingle Bells 3 and LeakyCon Live Albums, Darren Criss of a Very Potter Musical on ABC's Eastwood, Melissa's appearance schedule, and much more!
As a reminder, the LeakyCon DVD, which will be available to pre-order soon, will also include all wizard rock performances from our conference. If you like live wizard rock, be sure to reserve your copy of the upcoming LeakyCon Live Album of the wizard rock live shows at our LeakyCon 2009 conference. To listen, just hit the "Play" button on the right side of the page (–>), or use iTunes, or direct download.
"The Fourth Hallow"
RT: 66:14
Producer: John Noe
Also, special thanks to our ever-vigilant UStream Mods for monitoring the live PotterCast recordings.
LeakyCon 2011: A Harry Potter Conference in Orlando!
"Harry, A History" Website
Jingle Spells 2
PotterCast Vlogs
Podcast Alley
Digg
Remember you don't need an iPod to listen. Listen easily on iTunes, which you can download and install here, by clicking here to listen, or you can just use the streaming Flash player at PotterCast.com or just on the right side of this page. Discussion of the PotterCast is right here. Enjoy!