Open Casting Call for Actors at Wizarding World of Harry Potter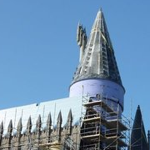 Oct 29, 2009
Calling all actors! There will be an open casting call held next month for roles at the Wizarding World of Harry Potter theme park attraction under construction at Universal Orlando. Thanks to Orlando Attractions Magazine, we now know that auditions will be held on November 14 and 15th with rehearsals set for January, all very exciting news. Quotage as follows:
"They're looking for male and female actors who can speak with a
British accent. More specifically, Universal is holding calls for male
actors with strong improv and interaction skills who are able to
portray an age range of mid-thiries to mid-forties. In addition,
they're casting male and female actors who are youthful in appearance. Casting is being held on Saturday, Nov. 14 and Sunday, Nov. 15 at 10
a.m. in the Universal Orlando Human Resources Lobby at 1000 Universal
Studios Plaza, Orlando, FL 32819.
Full-time, part-time, and seasonal positions are available. All
actors should prepare a one-minute monologue for audition and
candidates must be available for callbacks on Monday, Nov. 16 and
rehearsals beginning in January."
Be sure to sign up for emails on further auditions via the official Universal site. Good Luck to all who apply! Thanks so much Matt and Orlando Attractions Magazine.