Pensieve Diving Contest Announced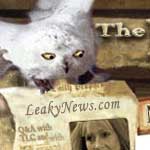 Oct 31, 2010
Our Contest Team have just announced their latest contest for the month of November, the Pensieve Diving Contest.
This month's contest asks you to help identify Harry Potter's memories; provided with a memory clue, you will have to work out the location and item of focus the clue is hinting at.
A new memory clue written by the Contest Staff will be posted each week in the Contest Corner starting Monday, November 1 at 12:01am EDT (see schedule at this link). All people who submit correct location AND item answers for all four memories will be placed into a drawing for a handcrafted wand donated by Wizard Wood Wands (changed monthly) and 50 MyLeaky points. Everyone who identifies all four pairs correctly will also receive 50 MyLeaky points.
All answers must be e-mailed with "Memory # Answer" in the subject line to [email protected] before the next Memory clue is posted. Please also submit a name (real name or Leaky Lounge name) to be used for tracking and site announcement (if you should win) purposes. Please replace the # with the memory clue number (e.g. Memory 1 Answer, Memory 2 Answer, etc). Find the full rules of the contest here on the contest page!
Good luck to everyone!