December Wizarding World T-Shirt Contest Announced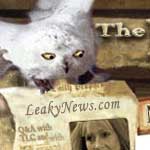 Nov 26, 2010
Our Contest Team have just announced their latest contest for the month of December, the Wizarding World T-Shirt Contest, which ends a little earlier than normal, on the 17th of December.
This month's contest asks you to design a t-shirt (by computer or by hand) to be sold to
teenage witches and wizards. Base your design on an originally worded
slogan, quip, or phrase. Please do
not include quotes or illustrations from the HP books, interviews,
movies, official licensed products, or any such official media, owing to
copyright issues.
The first place winner will receive a handcrafted wand donated by Wizard Wood Wands (changes monthly) and 200 MyLeaky points. Second, third, and honorable mention(s) will receive 150, 100, and 50 MyLeaky points respectively.
Your design may be for the front or back of the shirt, or both and may include an illustration. Winning entries will be made available for our readers to download and transfer to their own t-shirts! Please create a full-scale illustration of your design which can be copied for screening onto a t-shirt. Create a separate illustration showing the format and placement of the slogans on the shirt (front and back if needed). Please submit your entry in .jpg, .png, or .gif format; you may submit two files (one for the full scale design and the other for the format (front/back in one file)). File sizes no larger than 2 MB, please. Include the name you would like to have appear with your slogan (real name, Leaky Lounge, MyLeaky, etc). All submissions must be e-mailed to [email protected] by 11:59 pm (EDT) on 17 December, with "T-shirt Slogans" in the subject line of the e-mail. You can find the full rules at this link!
Best of luck to all who enter!