Helping Haiti Heal Anniversary LiveStream and Signed JKR Books Prize Pull!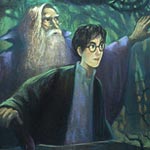 Jan 23, 2011
It has been a year since the Harry Potter fandom came together to raise $123,000 for the victims of the Haiti earthquakes, and we are celebrating by, finally, raffling off the full signed set of J.K. Rowling books – which means you have about TWO HOURS to enter to win this unbelievably rare set of signed Harry Potter books. You can do so right here – if you can't donate, please send your friends to dft.ba/books so they can!
We will be celebrating and having fun today remembering this amazing drive – join us at our LiveStream (livestream.com/imaginebetter) for Potter fun, live music and surprise special guests!