Cheryl Klein Describes Her Role as Continuity Editor for the Harry Potter Books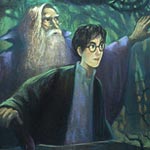 Oct 12, 2011
Scholastic Senior Editor and Continuity Editor for the "Harry Potter and the Half-Blood Prince" and "Harry Potter and the Deathly Hallows" books, Cheryl Klein, has given an interview with The Rusty Key, speaking about her role and experiences in working on the publication of the final two Harry Potter books. In the interview, Ms. Klein discusses many topics, including the editing process and what she does as a Continuity Editor. Quoteage:
My boss Arthur Levine, who acquired the series, has always been its true editor, and the one who works directly with J. K. Rowling. But on these last two books, along with a wonderful trio of copyeditors and proofreaders, I took care of many of the editorial "fact" functions"that spells did what they were supposed to do according to their previous usages in the book; that details about the characters didn't change randomly; that wands and other objects were always where they had been fictionally left last (especially important in Deathly Hallows, obviously). That left Arthur free to concentrate on the emotional experience for the readers and characters, and as I'm rather more detail-oriented and he's rather more emotionally oriented, it was a split that worked pretty well for us as an editorial team.
Read the full interview via this link.