St. Patrick's Day Quibbler Now Online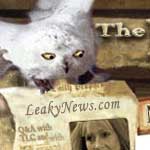 Mar 21, 2012
The St Patrick's Day edition of The Quibbler, Leaky's publication for "all the news you won't find anywhere else" is online at last! Read the PDF version at this link or download the zipped file right here. Find out how you can submit to The Quibbler at this link.
Apologies for this issue being late, but we made the mistake of relying on Errol to deliver it to us!
Happy reading and hope your first days of spring are lovely!