"The Casual Vacancy" Promotions and Expectations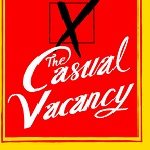 Aug 22, 2012
USAToday has a new article up discussing the promotion and expectations for J. K. Rowling's upcoming book The Casual Vacancy. Regarding the promotion, many book-sellers have commented on how "low-key" it is when compared to the promotion for Harry Potter:
"I've been in the dark," says bookseller Kathryn Fabiani, head buyer at R.J. Julia Booksellers in Madison, Conn. "We had no posters ¦ It hasn't been easy. People are curious, but they don't know what to expect." The upcoming release "seems almost invisible."
"We've been taking some pre-orders and we've got some activity, but nothing like Harry Potter," she says. "Nothing." Although she has ordered 300 copies for the independent bookstore, she suspects they won't sell out.
Little, Brown marketing director Heather Fain says, "We wanted to be very careful in our marketing. This is a very different book and it is aimed at a truly different audience." With Harry Potter, she says, booksellers became accustomed to promotional campaigns that included stickers and lightning-bolt tattoos. That approach "just doesn't fit the book."
Barnes & Noble vice president for marketing Patricia Bostelman says that Little, Brown's approach is what the author wants. "Apparently much of their behavior is at J.K. Rowling's wishes," says Bostelman. Rowling "has very strong opinions on how she wants publishing of the book handled. ¦ She's trying not to live on the laurels of Harry Potter and very much wants to have this book stand alone, on its own merit, just as if she were just any other author who was landing on the scene."
The article also comments on the expectations placed on the book, which will be Rowling's first adult novel:
"I just think that, just as actors have to overcome type-casting, J.K. is going to have to overcome the style and story that made her famous," Eckert says.
On the other hand, says Eckert, people who didn't get the whole Hogwarts gig might enjoy Rowling, the fantasy-free adult edition.
…
Perhaps it's not Rowling who has the problem, says Publishers Weekly's Roback. "I don't think the transition was necessarily a difficult one for her. She's a writer, and a good one. I do think it may be difficult for the market and the media to adjust their expectations. Because given her phenomenal success, anything other than a book everyone loves that sells in the millions and millions may be deemed a disappointment, which is unfair to the book and to the author."
Back in 2007 in an interview with USA TODAY, at the time of the final Potter book, Rowling said she was working on two writing projects, one for children and one not for children. She knew expectations for any new book would be enormous.
"I think that there will be some disappointment if I don't write another fantasy," she told USA TODAY. "But I must admit, I think I've done my fantasy."
USAToday also interviewed Leaky's own Melissa Anelli:
For Melissa Anelli, there is no "maybe" about The Casual Vacancy. "J.K. Rowling is a master of storytelling, and I'm going to read any story she writes," says Anelli, 32.
Anelli qualifies as an über-fan. She's calling from the annual Harry Potter Fan Club get-together in Chicago where more than 4,000 Potter faithful gathered earlier this month. Anelli, webmistress of the Harry Potter website The-Leaky-Cauldron.org, wrote the 2008 book Harry, A History, for which Rowling penned the foreword.
You can read the rest of the article here. The Casual Vacancy will be released on September 27th.