Harry Potter: The Exhibition Returning to New York's Discovery Times Square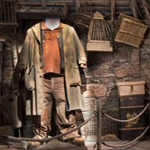 Aug 28, 2012
Following a year-long international tour, Harry Potter: The Exhibition will be returning to New York City's Discovery Times Square in time for the holiday season, it was announced today via press release. An opening date and ticketing information are not yet available and will be released in the coming weeks.
The exhibit's return to New York means it will now feature original artifacts from the final film, "Harry Potter and the Deathly Hallows – Part 2," which were not available the first time around.
Harry Potter: The Exhibition was previously at Discovery Times Square in 2011 before it moved to its first international location in Sydney, Australia.