New Interview on the Set of "Perks"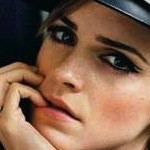 Aug 31, 2012
In a new promo for her movie The Perks of Being a Wallflower, Emma Watson talked about her college partying experiences that prepared her for the role, and how now grown-up Potter fans will be able to handle her more adult film. Talking to Entertainment Tonight, Emma Watson also described her character Sam. This new promo can be seen below. SnitchSeeker also reported more TV appearances that Ms. Watson has scheduled, saying:

id="post_message_11183635″>
Emma will be in full motion to promote the release of The Perks of Being a Wallflower, including attending the Toronto and Los Angeles premieres next month, and participating in some talk shows in New York City the next couple of weeks.

Emma is scheduled to appear once again on CBS' Late Show with David Letterman this upcoming Wednesday, September 5, as well as ABC's morning show Live with Kelly on September 13, 2012. Additionally, Emma and the cast of The Perks of Being a Wallflower will be guests on Anderson Cooper's talk show Anderson Live sometime September too, according to the program's website, though has not listed the specific date. We will have all of Emma's interviews as soon as they are online.