Warner Bros. Announced the Harry Potter Wish List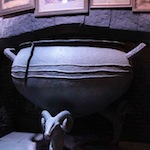 Nov 13, 2012
Along with a new and improved online Harry Potter Shop, Warner Bros. has announced improvements to their Harry Potter Wish List. Now fans can create a wish list for Harry Potter merchandise that their friends and family can view.
Many of the great new features on the Harry Potter Wish List include:
· Wish Lists of favorite products for users to create and share with friends and family via email, Facebook and Twitter
· Collections of officially licensed Harry Potter products for users to save on digital shelves that ˜magically' expand
· A revolving character carousel for each of the films in the beloved series
· Film information including trailers, images, and character links
· A shop which links to the new www.harrypottershop.com
· Up-to-date brand and product information, including updates on The Wizarding World of Harry Potter and Harry Potter: The Exhibition
· Future promotions and sweepstake for Harry Potter fans of all ages!