New "Young Doctor's Notebook" Promos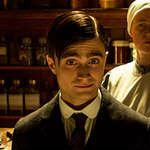 Nov 16, 2012
There are three new promotional videos for "A Young Doctor's Notebook," a mini-series which will star Dan Radcliffe and Jon Hamm. The clips which you can watch below show a few short moments from the series, which will begin on December 6th on Sky Arts. Sky Arts has also released a synopsis of the first episode:
In the first episode of the four-part comedy drama A Young Doctor's Notebook, we encounter the doctor (Jon Hamm) recollecting his younger days when, at the fragile age of 25, he was hurled pitilessly into the icy depths of rural Russia. With his old notebook acting as his memory-catalyst, the now-experienced doctor travels back in time to the eve of the 1917 Russian revolution, but perhaps he is not entirely prepared for what he will find.
As he looks back and revisits himself in embarrassment, awe and a hint of nostalgia, his inner conflicts are unravelled, brutally and comically, whilst he battles to rediscover his past, and his happiness.
Meanwhile, Jon Hamm's younger self is played by an outstandingly witty Daniel Radcliffe, who arrives at the Muryovo village soon after graduating – top-class, as it must be noted – looking like the inexperienced, scrawny boy he was. Beardless and almost pathetic, he finds himself in the midst of panic, having to cope with the grotesque conditions of an antiquated, regressive Russia, back then a stranger to electricity and such modern luxuries as fashioned by Western Europe.
"[Your walk] It lacks authority, like your voice"
His first test is a woman suffering from the extreme pains of giving birth, but this may have been one medical lesson that the doctor wasn't particularly attentive to. Shocked and terrified to his very core, he dashes to his library, frantically searching for an answer but only to be faced with a very angry, older version of himself, namely Jon Hamm, who pushes him to act like a man.
Brusquely humorous and delightfully exuberant, the series inauguration is bound to compel you and leave you wanting more.
Sky Arts has also released several images from the episode, which can be seen here in our galleries.
"A Young Doctor's Notebook" will air at 9 PM on December 6th.

Many thanks to SnitchSeeker for the tip.