Harry Potter Actors Donate Doodles for National Doodle Day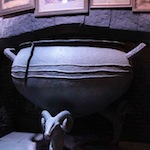 Jan 22, 2013
National Doodle Day, a fundraising event which supports the work of Epilepsy Action, is auctioning several doodles from Harry Potter actors to raise money for the charity. Sean Biggerstaff (Oliver Wood), Brendan Gleeson (Mad-Eye Moody), John Hurt (Ollivander), Adrian Rawlins (James Potter), Fiona Shaw (Mrs. Dursley), Mark Williams (Mr. Weasley), Bonnie Wright (Ginny Weasley), and composer Patrick Doyle ("Goblet of Fire" soundtrack) have each donated a doodle and you can see their doodles here.
National Doodle Day, which is supported by Dodo Pad, publishers of the original family ˜doodle' diary, is now in its tenth year. It aims to get as many people doodling as possible to help support the 600,000 people across the UK with epilepsy. The celebrity doodle eBay auction will begin on National Doodle Day (8 February) and will run for ten days until Sunday 17 February.
Over 1,000 celebrities have taken part in National Doodle Day since it began and members of the public can join them by doing their own doodle. This year, Epilepsy Action is inviting budding artists to ˜do a doodle, donate a pound' with the chance of a prize for anyone taking part. Prizes for the best doodles will be awarded in three categories ' seven years and under, 8-16 years and 17 years and over. The winning doodlers will receive up to £150 worth of arts and crafts vouchers and a 3D stuffed figure, custom-made to look exactly like their doodle courtesy of Lucy Moose. There is an additional competition for schools and colleges.
To find out more about National Doodle Day go here.