Harry Potter Stars Raise 1,000 Pounds for National Doodle Day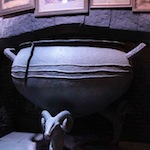 Feb 24, 2013
As readers may recall, several Harry Potter actors donated doodles for National Doodle Daywotsearchtarget="doodle.epilepsy.org.uk" style="position: absolute; visibility: hidden; line-height: normal; cursor: pointer; width: 16px; height: 16px; display: inline-block;">, which was February 8th. An auction for the doodles ran on E-bay until February 17th and the doodles made by the Harry Potter actors raised almost £1,000 for the charity:style="">
Doodles drawn by a host of Harry Potter stars have fetched hundreds of pounds for UK-based charity Epilepsy Action. Celebrities including Bonnie Wright (Ginny Weasley), Adrian Rawlins (James Potter), Mark Williams (Arthur Weasley), Brendan Gleeson (Alastor ˜Mad-Eye' Moody), Sean Biggerstaff (Oliver Wood), David Bradley (Argus Filch), Fiona Shaw (Petunia Dursley), John Hurt (Mr Ollivander), Verne Troyer (Griphook the goblin) and composer Patrick Doyle, who worked on Harry Potter and the Goblet of Fire, contributed hand-drawn doodles to be auctioned on eBay. The 10 day auction featured works of art by over 200 stars to celebrate National Doodle Day. Harry Potter star's doodles raised almost £1,000, including David Bradley's drawing of his Hogwarts caretaker character, which went for £180.
Philippa Cartwright, fundraising events manager at Epilepsy Action, said: "We are overwhelmed by the support received from celebrities and members of the public alike to celebrate our tenth National Doodle Day. The amount of money raised from the celebrity auction this year is the highest ever for Epilepsy Action. The amount raised by Harry Potter stars alone could train several Accredited Volunteers to deliver epilepsy awareness training in local schools, workplaces or care homes."
You can read more about National Doodle Day herewotsearchtarget="doodle.epilepsy.org.uk" style="position: absolute; visibility: hidden; cursor: pointer; width: 16px; height: 16px; display: inline-block;">.