Harry Potter: The Exhibition Departs North America in Three Weeks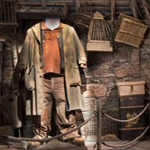 Mar 14, 2013
Harry Potter: The Exhibition, currently on display in New York at Discovery Times Square, will be leaving North America in three weeks:
Don't miss Harry Potter: The Exhibition before it closes in just three weeks! The blockbuster exhibition, which returned to New York City by popular demand after its successful 2011 run, will be open at Discovery Times Square through April 7, 2013.
The 14,000-square-foot experiential exhibition ' created by Global Experience Specialists, Inc. (GES) in partnership with Warner Bros. Consumer Products ' showcases the amazing craftsmanship behind authentic costumes and props from the films, offering fans a firsthand view of hundreds of artifacts displayed in settings inspired by the film sets ' including the Great Hall, Hagrid's hut, the Gryffindor common room, and more.
In addition to the artifacts from the first seven Harry Potter films displayed during the exhibition's initial visit to New York, artifacts from the series finale, Harry Potter and the Deathly Hallows – Part 2, are now part of the exhibition – including a vignette dedicated to the epic battle of Hogwarts.
You can purchase tickets to the Exhibition here.