Richard Griffiths Dies at 65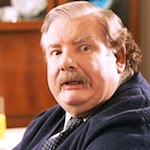 Mar 29, 2013
Richard Griffiths, well known on screen and stage but perhaps best known to many of us as Harry Potter's Uncle Vernon Dursley, has died at age 65 from complications after heart surgery.
According to The Guardian, tributes have already begun pouring in from his co-stars, including Daniel Radcliffe:
"In August 2000, before official production had even begun on Potter, we filmed a shot outside the Dursleys', which was my first ever shot as Harry. I was nervous and he made me feel at ease," he said.

"Seven years later, we embarked on Equus together. It was my first time doing a play but, terrified as I was, his encouragement, tutelage and humour made it a joy. In fact, any room he walked into was made twice as funny and twice as clever just by his presence. I am proud to say I knew him." (x)
Richard was born in Thornaby-on-Tees, North Yorkshire, in 1947. After studying with the Royal Shakespeare Company, he began appearing regularly on stage, television, and in movies, eventually becoming one of Great Britain's most recognizable and beloved character actors.
Among other nominations, he received a Laurence Olivier award, Drama Desk award, and Tony award for his work in The History Boys and was nominated for a BAFTA Film Award for reprising his role in the film version. In 2008 he was appointed an Officer of the Order of the British Empire.
He is survived by his wife, Heather Gibson.