Toby Jones and Imelda Staunton in "Circle Mirror Transformation"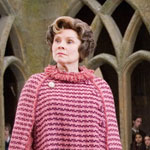 Apr 21, 2013
Harry Potter actors Toby Jones (the voice of Dobby) and Imelda Staunton (Dolores Umbridge) will be taking to the stage in Annie Baker's Circle Mirror Transformation. This theater production will be put on by the Royal Court as a part of its Theatre Local project. The show will officially open July 15, and run July 16-August 9, at the Rose Lipman Building in Haggerston, London. TheaterMania reports:

Vicky Featherstone has announced the roster of productions to open her first season as artistic director of the Royal Court. Two of the upcoming productions will be part of the Theatre Local project, through which the company stages productions outside of its home at Sloane Square.
The first Theatre Local production will be Annie Baker's Obie Award-winning Circle Mirror Transformation, which premiered off-Broadway at Playwrights Horizons in 2009. The play will star two-time Olivier Award winner and Academy Award nominee Imelda Staunton (Sweeney Todd) and film star Toby Jones (Tinker Tailor Soldier Spy), both popularly known for their roles in the Harry Potter film series (Staunton plays Professor Dolores Jane Umbridge and Jones provides the voice of Dobby the house elf). Directed by James Macdonald, the production is scheduled to run from July 5-August 3 (with an official opening on July 11) at the Rose Lipman Building in Haggerston, London.
The rest of the article, and information about other productions, can be read here.