Seriously – no, really – it's a PotterCast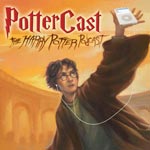 Jan 29, 2014
Every time we think we're out…she pulls us back in.
And this time it's to discuss Cuckoo's Calling, the mystery novel J.K. Rowling dashed off secretly under the pseudonym Robert Galbraith. We said that if J.K. Rowling did something big we'd be back, and here we are. Only six months late.
But it's going to be fun, because we are planning on reading the book as we podcast. That's right, John, Frankie and Melissa are STUCK on part one of Cuckoo's Calling, unable to read on until the next recording, so that no one knows what happens and predictions will be equally laughable in retrospect. Join us as we travel a new J.K. Rowling mystery together! We promise we'll actually get all the way through this one (…OR WILL WE…? Maybe that's the new mystery!).
You can subscribe to PotterCast on iTunes right here, or download the episode directly.