Harry Potter Actors Participate in National Doodle Day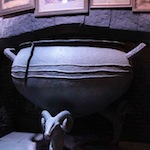 Feb 05, 2014
Several Harry Potter actors have donated a doodle for this year's National Doodle Day, which raises money to help support the 600,000 people across the UK with epilepsy. The doodles will be auctioned off for seven days starting on National Doodle Day itself (March 7th) and the proceeds will go to the charity Epilepsy Action, which you can learn more about here. Last year, the doodles of Harry Potter stars raised almost 1,000 pounds for the charity.
This year Bill Nighy (Rufus Scrimgeour), Imelda Staunton (Dolores Umbridge), Adrian Rawlins (James Potter), Miriam Margoyles (Professor Sprout), and the late Roger Lloyd-Pack (Barty Crouch) have all donated doodles for National Doodle Day and you can see their work here. Additionally, artist Mark Kaiser has donated a sketch of Hogwarts.
Members of the public are welcome to get into the act by creating their own doodles and donating to Epilepsy Action. You can learn more about National Doodle Day here.