PotterCast 253: PotterCast Filch!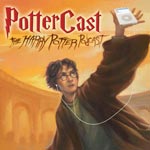 Feb 27, 2014
And, PotterCast is back! Just when we thought we were out…
Lots of stuff on the docket this time, like Ron/Hermione, Harry/Hermione, Ron/Hermione, Harry, Hermione, Ron/Hermione, and… what else? Oh, right, the park, and the upcoming Potter play. And a tease of a brand new Leaky podcast!
You can subscribe to PotterCast on iTunes right here, or download the episode directly.